If you own a bulldog, then you probably know about their unique dietary features and the reasons behind feeding them with the best dog food for bulldogs in the market. Read on to take a find out the reasons behind feeding the breed with a unique diet.
Bulldogs are muscular built dogs with wrinkly skin and medium-sized bodies. The dogs originated from England, where their owners bred them for bear and bull baiting. Today, the bulldog is among the top ten dog breeds in the United States and one of the most popular family pets.
Contrary to their history, which depicts bulldogs as fierce and tough dogs, they are kind, peaceful, comical, and gentle, especially when they are around kids. An adult bulldog weighs between 40 and 50 pounds with a height of 16 inches.
See also:
Lifespan
Unlike many other dog breeds that have an average lifespan of about 13 years, a bulldog's average lifespan is about 8 years. One of the primary reasons for the shorter lifespan is due to changes in diets and health issues. With proper feeding habits, exercise, and balanced nutrition, the bulldog's life can go even up to 12 years.
The tiny size of their noses and narrow nostrils could also contribute to their short lifespan as they may develop breathing problems as they grow. Shortness of breath leads to panting and the failure to feed well, which could in turn, lead to their early demise. Obesity is also another cause of the dog's short lifespan.
Dietary, Health and Feeding Characteristics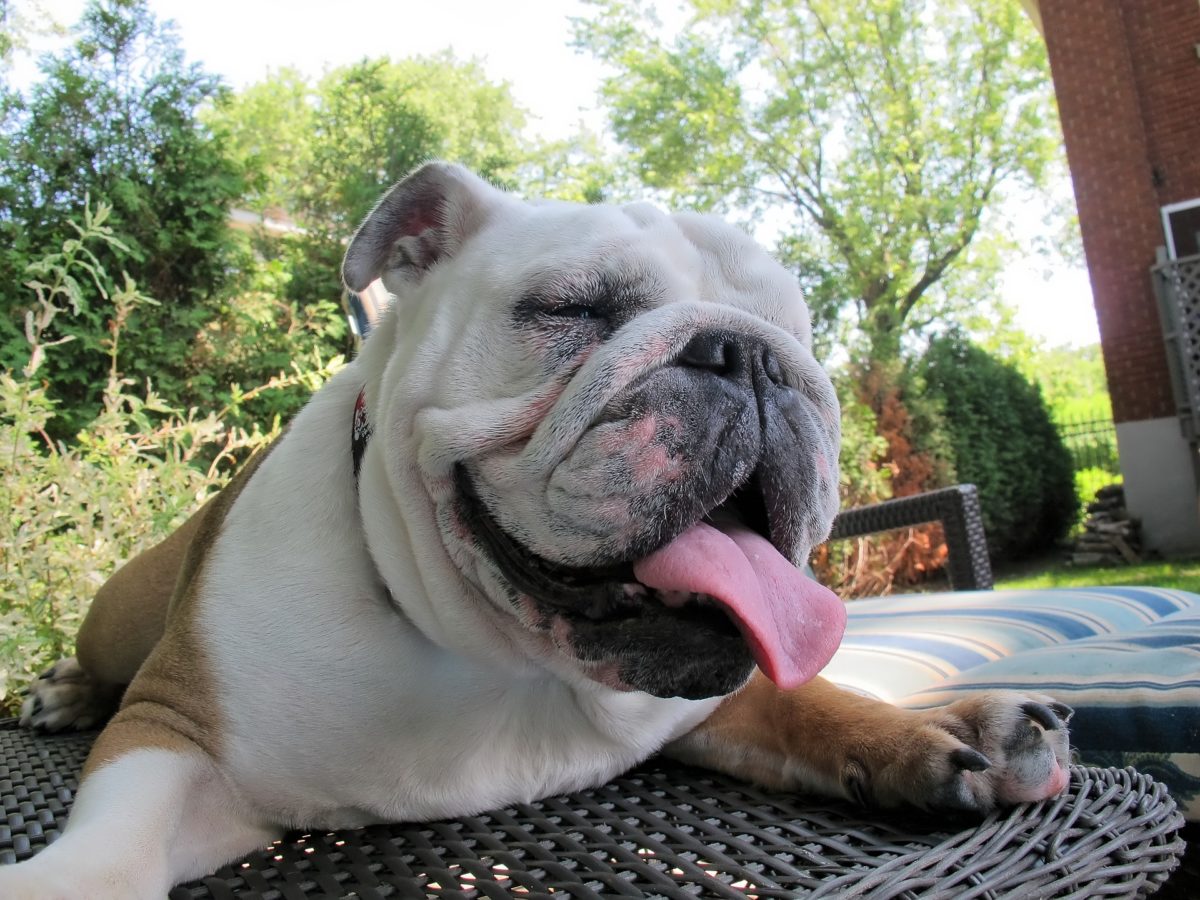 Because of their muscular built, bulldogs are not runners, unlike many other more agile breeds. The dogs need regular light exercises such as walks to keep them healthy. Besides walking the dogs to maintain their health, they also need healthy and nutritious diets that meet their nutritional needs. Unlike the huskies that are fussy with their food, bulldogs eat everything and anything placed in front of them.
They can also eat the whole day as long as they have access to food. Because of their eating habits and less active lifestyle, bulldogs are very prone to obesity if their eating habits go unmonitored. The breed is also prone to other health issues that include sensitive stomach, hip dysplasia, eye problems, bloating, hip and joint problems, heart diseases, cancer, tumors, and allergic reactions.
The size of an adult bulldog falls between a small and large breed, which means that the best diets for them are adult dog foods. Puppy bulldogs have their meals specially formulated for their growing muscles. Like every other dog, the bulldog's diet should include a blend of all the necessary ingredients with proteins taking the first spot in the list of ingredients.
The formula of the food should also contain a balanced mixture of carbohydrates, minerals, vitamins, fats, amino acids, and antioxidants, among others. Protein from animal-based sources should be a top priority because of digestion that is more comfortable and the animal taste flavor that the dog loves. The natural ingredients also play a significant role in maintaining the dog's lean muscle build.
The breed also needs a diet that will not cause any allergies because of its high intolerance levels. Prebiotics and probiotics should also be in the mixture of the ingredients for the health of the bulldog's coat and skin. We narrowed our search of the best dog food for bulldogs in the market to the following five recipes.
Our Top Picks Bulldogs Food
Royal Canin Breed Health Nutrition Bulldog Adult Dry Dog Food
No products found.
The factor that sets the Royal Canin diet apart from the rest is that it has a formulation specifically designed for the bulldog. The formula contains high quality ingredients that help to minimize the health problems associated with the bulldog. The tailor-made, high quality, nutritious diet helps to maintain the dog's healthy joints and bones, protect and improve the health of their skin and coat and helps in easier digestion eliminating odor in gas and poop.
Another notable feature with the Royal Canin is the kibble that comes in wavy shapes designed for their unique jaws and shape of their mouth. The wavy shape makes it easier for the dog to pick the kibbles without too much struggle. The recipe contains a balanced content of proteins, controlled carbs, and fiber that go a long way in promoting the overall health of the dog. EPA and DHA are also vital ingredients in the recipe that help to support healthy joints and bones.
The diet is suitable for bulldogs aged 12 months and above. Some of the ingredients in the formula are chicken by-product meal, brewers rice, brown rice, oat groats, chicken fat, natural flavors, wheat gluten, and many others.
Pros
Contains a balanced collection of high-quality proteins
Includes quality carbohydrates
Promotes a healthy digestive system
Strengthens healthy joints and bones
Specially formulated for the bulldog
Easily chewable and digestible kibbles with a shape designed for the unique jaw of the breed
Cons
It is not grain-free, which leads to allergies for some dogs
Nulo Adult Grain-Free Dog Food
No products found.
Bulldogs need a diet that will keep them active and healthy at all times. Nulo provides dogs of all sizes and breeds with quality, nutritious foods made with natural ingredients. Adult grain-free recipe is a low carb diet that contains 85% protein content that helps to build the strong muscles of the bulldog. The recipe comes in three different flavors, and you can choose between salmon, lamb, or turkey recipes.
Other essential ingredients in the formula are sweet potatoes, chickpeas, and peas. Even though most dog foods contain chicken, these particular recipes leave out chicken and eggs, as not all dogs like the two ingredients. The recipes also leave out tapioca and potatoes. Omega 3 and omega 6 fatty acids help to nourish the bulldog's skin and keep the coat shiny.
Amino acids in the recipes help to promote a healthy heart. The grain-free diet contains no wheat, soy, or corn. It does not have fillers, artificial additives, flavors, or colors. The small bite kibbles are ideal for the unique shapes of the bulldog's jaw. All the ingredients are 100% natural and suitable for small to large breeds.
Pros
Low carb diet
65% protein content for lean muscle mass
Comes in three different flavors
Suitable for dogs of all sizes
Does not contain potatoes or tapioca
Does not contain artificial preservatives, flavors, or colors
Kibbles have the ideal size for the bulldog jaw
Grain-free
All-natural ingredients
Made in the USA with no mystery ingredients
Cons
Instinct Raw Boost Grain-Free Recipe Natural Dry Dog Food
No products found.
Using Instinct Raw Boost is one of the best ways to ensure that your bulldog feeds on a well-balanced diet for its wellbeing. The grain-free food contains a high protein content made freeze-dried raw meat. The main ingredient is farm-raised bee from the USA. It also contains probiotics that help to support the dog's healthy digestion.
Omega 3 and omega 6 fatty acids help to keep the skin healthy and the coat shiny. The diet does not contain potato, wheat, soy, or corn. It is free from artificial preservatives, colors, and flavors. The raw boost kibbles are ideal for all dog sizes and ages, including puppies, adults, and senior dogs. All the ingredients in the recipe are natural with no fillers or by-products.
Pros
Contains USA farm-raised beef as the main ingredient
Kibble with balanced nutrients ideal for all dog sizes ad age groups
Grain-free
Does not include any by-products
Does not contain artificial preservatives, colors or flavors
An all-natural list of ingredients
Contains probiotics that help to support a healthy digestion
Contains omega 3 and omega 6 fatty acids for a healthy coat and shiny skin
Cons
Expensive
New formula with ingredients that make some of the dogs sick
Rachael Ray Nutrish Zero Grain Dry Dog Food
No products found.
You can never go wrong with a dog recipe from the Rachael Ray Nutrish kitchen. The celebrity chef ensures that all the recipes that you feed your pets are of the highest quality nutritious benefits. The zero grain formula contains essential vitamins and chelated minerals that are ideal for the dog's daily diet needs. The meal does not contain any artificial additives such as preservatives, colors, or flavors.
The main ingredient in the menu is real salmon combined with minerals, vitamins, amino acids, and whole vegetables. Besides salmon, other notable ingredients in the recipe include a salmon meal, menhaden fishmeal, dried whole potatoes, sweet potatoes, dried peas, and many others. The meat is fresh and easily digestible for the bulldog. The recipe is grain-free and does not contain artificial preservatives, colors or flavors.
Pros
Infused with real turkey raised from USA farms as the main ingredient
Promotes healthy joint and bone health
Easily chewable and digestible
Promotes healthy organs, skin, and coat
Infused with fiber for a healthy digestive system
Does not contain artificial preservatives, flavors, or colors
Cons
Bites are not suitable for smaller bulldogs
Includes a strong fish smell that is too strong for some dogs
Solid Gold-Sun-Dancer-Grain-Free Adult Dog Food
No products found.
Solid Gold Sun Dancer Grain-Free Food is another highly nutritious option for the health of your bulldog. The recipe contains all the ingredients the dog needs for lean muscles, healthy joints, and bones and a sound digestive system. The main ingredient in the diet is real cage-free chicken.
Other protein ingredients include tapioca, chicken meal, ocean fishmeal, peas, and chicken fat. The grain-free recipe contains only natural ingredients formulated for the excellent health of the bulldog. It includes a balanced blend of vitamins, probiotics, prebiotics, antioxidants, and minerals that help to build a stronger immune system.
The real meat recipe is grain-free with no wheat, soy, or corn. It is gluten-free and does not contain artificial preservatives, colors, or flavors. Other highly nutritious ingredients in the recipe include pumpkin, carrot, cranberries, lentils, and kelp. The quality fiber content helps the bulldog with a healthy digestive system. It comes with a 100% satisfaction guarantee.
Pros
Contains cage-free chicken as the main ingredient
Infused with other ingredients to make a balanced nutritious diet
Supports a healthy immune and digestive system
Promotes healthy skin and shiny coat
Grain-free
Contains no artificial preservatives, flavors, or colors
High fiber content
100% satisfaction guarantee
Excellent taste and flavor
Cons
New formula has lower calorie content
Wrapping it up
Bulldogs are unlike many other dog breeds, which is why it is crucial to choose the best diets for them. They have sensitive needs and are prone to health issues that you can only address with the right nutrition. They are also muscular dogs that are prone to obesity if not monitored carefully.
You do not want to feed your bulldog with high carbs least they develop other issues such as blood sugar the above recipes all come with suitable and balanced ingredients that will go well with the nutritional and health needs of the bulldog. They are high-protein diets that will help to support the dog's lean muscle build as well as other systems in the body. They contain enough fiber content to help the dogs with healthy digestion and fatty acids to keep their furry coats shiny with healthy skins.
No products found.