When choosing the best dog food for Shih Tzu, begin by learning the characteristics and nutrition needs of the breed. Find out about any health issues it has because knowing all that will determine what ingredients to look out for in the dog's recipe. In this article, we look at some of the best food recipes for Shih Tzu, but before then, let us learn a little about what makes the Shih Tzu tick.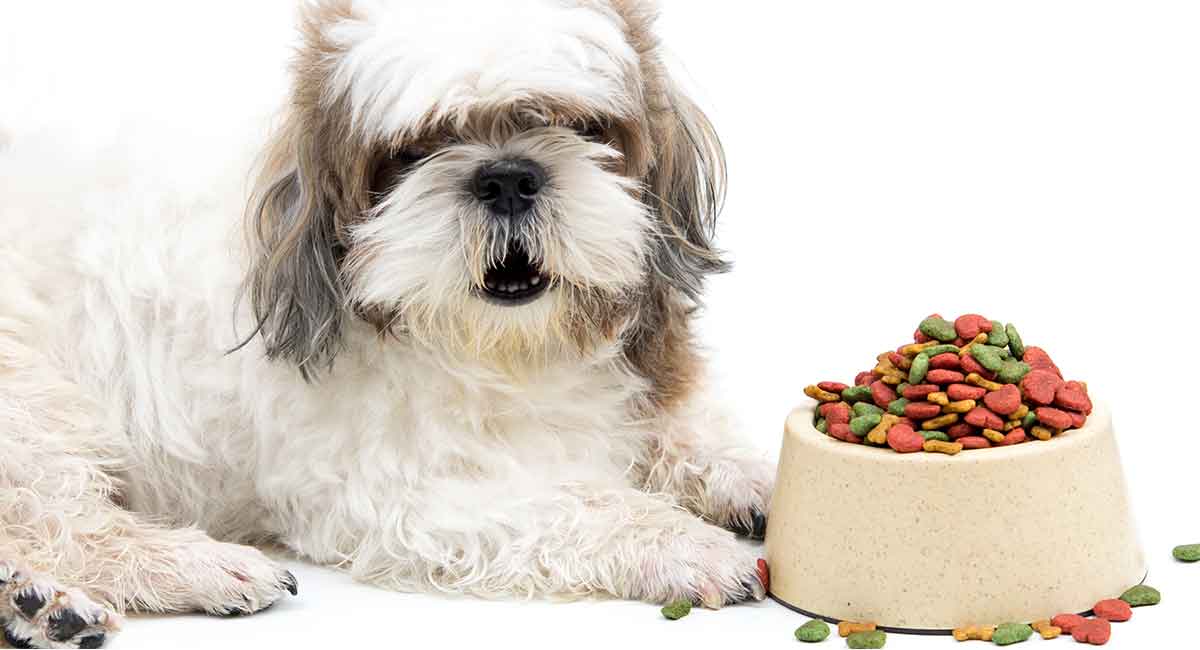 Shih Tzu is a happy and active toy dog that loves attention and the company of people. The dog gets along easily with pets of other species, other dog breeds, and people of all ages. It is sporadic to find an unhappy Shih Tzu as it is always in a great mood. The only thing that they are not very popular with is their incessant barking. Shih Tzu is also one of the most natural dogs to train, and its intelligence levels are higher than many other breeds.
See also:
Physical Features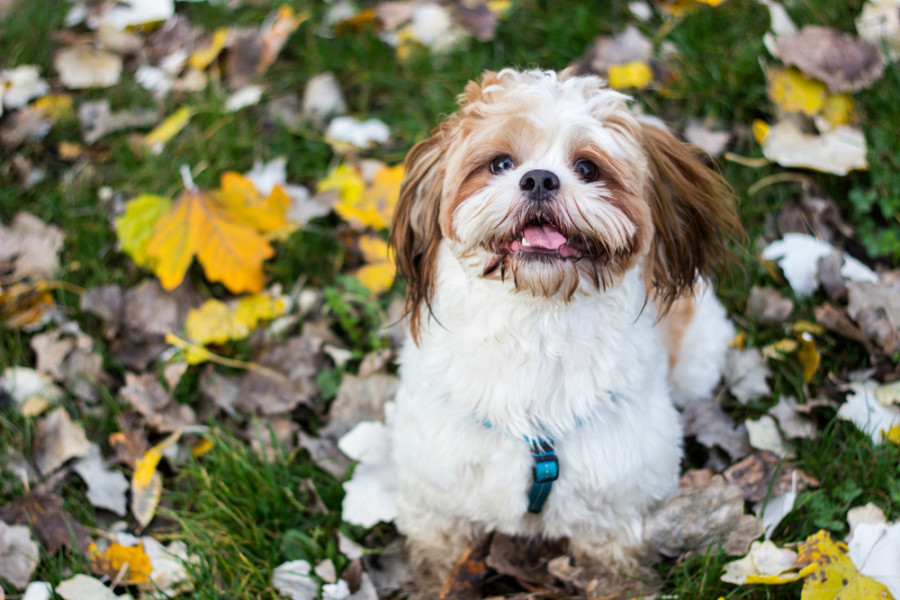 The dog is beautiful with a long flowing coat that needs regular grooming. The color of the coat is not standard, but the majority of the Shih Tzus have dark pigment around the nose and eyes. An adult Shih Tzu weighs between 9 and 16 pounds and stands at 10 inches tall.
Other notable physical characteristics of a Shih Tzu that make it stand out from other breeds are its squashed face and floppy ears. The length of the dog is larger than the height, and the muzzle is short. A Shih Tzu has prominent eyes, a rounded head, and its tail curls over its back.
The dog walks with a long and swift gait, which is unusual considering its small size. Unlike some breeds of the same size, a Shih Tzu has a long lifespan and can live for 15 years and beyond.
Diet, Health, and Nutrition Needs
Shih Tzus are agile dogs, and they enjoy an occasional walk that helps to keep them fit. They, however, do not like strenuous exercises. Because of their love for attention, some Shih Tzu owners spoil them by giving unnecessary treats to make them happier. Even though the dogs are agile, they are not as active as many other breeds, making them prone to obesity.
The dog is also prone to heatstroke, which is why you should not walk or exercise them in hot and humid conditions. Other health conditions that affect the Shih Tzu breed are allergies, dental problems, hypothyroidism, digestive issues, and joint and bone problems. Because of their small sizes, Shih Tzus do not need a lot of food to keep them healthy.
However, they need food with the right ingredients to meet all their nutritional needs. The top ingredients to feed your Shih Tzu with should be proteins, preferably whole meat products, fat, carbohydrates, vitamins, and minerals. You should avoid GMO foods, foods with artificial additives, and food without AAFCO approval.
Our Top Picks Shi Tzu Food
Royal Canin Breed Health Nutrition Shih
No products found.
Royal Canin chooses the ingredients to use on dig foods depending on the specific breed. The health nutrition Shih Tzu meal from Royal Canin is a wet food with loaf-in-sauce that your Shih Tzu will fall in love with immediately. The formula has a rich infusion of minerals, vitamins, EPA, DHA, omega 3 fatty acids, ALA, taurine, L-Carniture, sodium, and other vital ingredients that help to promote the toy dog's healthy skin, shiny coat and a healthy cardiac system.
The diet is especially useful for the Shih Tzu dog that will not eat dry kibbles. Adding this diet to the kibbles gives the fussy eater a better appetite. You can also choose to feed the wet food diet on its own without adding it to any other food, and the digs will still love the flavor and taste.
The meal is soft and comfortable to chew, and it comes with a meaty taste that the dogs love. The recipe meets all the health standards of safety and does not contain artificial preservatives, colors, or flavors.
Pros
Contains an infusion of quality ingredients that promote the dogs well being
Supports healthy immune and cardiac systems
Supports healthy skin and shiny coat
Easy to chew and digest the mushy diet
Mixes well with dry kibbles
A tailor-made loaf-in-sauce formula that meets all the nutritional needs of the Shih Tzu
Cons
Hill's Science Diet Dry Dog Food, Puppy, Small Paws for Small Breeds
No products found.
Hill's Science Diet Puppy Size & Toy Breed Dry Dog Food provides the Shih Tzu with food that comes with quality ingredients for its wellbeing. Shih Tzus have sensitive stomachs, and this diet addresses that fact. The meal contains chicken meal and barley as the main ingredients that help with digestion health and supporting lean muscle build. The ingredients also help to promote a healthy dog's skin and, shiny coat.
The prebiotic fiber content in the diet also helps the dog with improving the texture of the stool. Omega 6 fatty acids in the formula help to nourish the dog's skin and boost the coat's health, giving it a lustrous shine. The meal also includes an infusion of vitamin e and antioxidants that help to promote a healthier immune system. The ingredients are all-natural with no artificial preservatives, colors, or flavors. The USA product is suitable for toy breeds in all stages of growth.
Pros
Contains an all-natural list of ingredients
Made in the USA
Contains prebiotic fiber that promotes healthy digestion and firm stools
Strengthens a healthy and stronger immune system with vitamin e and antioxidants
Includes omega 6 fatty acids that help to nourish the dog's coat and skin
Contains no artificial preservatives, colors, or flavors
Cons
May cause vomiting and allergy reactions in some dogs
Eukanuba Small Breed Puppy
No products found.
Established by Paul Iams in 1969, Eukanuba provides pet owners with the best protein-rich diets for their dogs. Eukanuba diets mirror the dog's carnivorous appetite that goes back to feeding in the wild. The small breed puppy dry dog food starts your Shih Tzu puppy on the right footing with a balanced proportion of quality ingredients. It contains a high protein level of 32%, with chicken as the main ingredient, which is suitable for providing enough energy and lean muscle build to the growing pups.
The meal also contains 21% fat concentrated in fish oil for more energy. Other ingredients in the recipe include DHA, phosphorous, vitamin E, and calcium that help to build the immune system, strong joints and bones, healthy brain, and a healthy coat and skin. The recipe is high in natural fiber and prebiotics that help with healthy digestion and a more effortless and natural passing of stool.
The formula is free from artificial preservatives, flavors, and colors. It is ideal for pups aged 12 months and below.
Pros
Contain high protein content with chicken as the main ingredient
Supports lean muscle build
Supports a healthy immune system and a healthy heart
Promotes better digestion
Provides healthy skin and shiny coat
Promote strong bone and joint development
Does not contain artificial preservatives, colors, or flavors
Cons
It is not grain-free which may not go well with dogs with allergy issues
Blue Buffalo Life Protection Formula Small Breed Dog Food – Natural Dry Dog Food
No products found.
The chicken and brown rice formula by Blue Buffalo is a quality recipe drafted for the wellbeing of the toy breeds such as Shih Tzu. The main ingredient in the formula is real meat-chicken that provides the small dog with enough proteins for better muscle growth. The formula also contains whole grains that provide the meal with fiber and carbs for healthy digestions and better stool formation.
A combination of minerals, vitamins, and vegetables offer a small dog with nutrients that help to promote good health. The formula also uses blue LifeSource bits that help to boost the immune system. The kibbles are small, tasty, easy to chew, and easily digestible. The developing dog's cognitive and eye health get a boost from DHA, and ALA added to the ingredients.
To help the coat and skin of the dog, the manufacturer adds omega 3 and omega 6 fatty acids to the mixture. The formula is free from artificial preservatives, colors, and flavors. The grain-free formula contains no soy, wheat, or corn.
Pros
Promotes healthy skin and coat
Supports a stronger immune system
Contains real chicken as the main ingredient
Contains fiber that promotes healthy digestion
Small-sized kibbles ideal for the little sized dog
Free from artificial preservatives, flavors, and colors grain-free with no wheat, soy, or corn
Cons
Some dogs may not like the flavor
AvoDerm Natural Small Breeds Revolving Menu Dry Dog Food for Rotational Feeding
No products found.
AvoDerm Natural Small Breeds dry food is a nutritious diet that contains turkey as the main ingredient. The formula also uses two carbohydrate sources peas and garbanzo beans as sources of energy. The grain-free has limited ingredients and only one protein source, which makes it ideal for dogs with sensitivity and intolerance issues.
The recipe forms a part of other flavors to allow you to provide your dog with rotational feeding for better health without worrying about upsetting their delicate stomachs. The kibbles are small in size, which makes them ideal for the little Shih Tzu breed. An infusion of omega-rich avocados helps to promote the dog's healthy skin and coat.
Other essential ingredients in the formula include vitamins, minerals, and antioxidants. It is gluten-free and does not contain any artificial preservatives, flavors, or colors,
Pros
Contains omega-rich avocado that helps to support a healthy coat and skin
Enriched with one protein source
Limited ingredient diet that helps to prevent allergy and sensitivity
Grain-free and gluten-free
Small bite-size kibbles specially formulated for small dogs
Rotating diet that allows you to switch recipes without any side effects
Supports healthy digestion
Does not contain artificial flavors, preservatives or colors
Good price
Cons
Some dogs may not like the flavor
Read next: Royal Canine Dog Food Review
Wrapping it up
Using the wrong diet for your Shih Tzu could lead to adverse side effects that include allergies, obesity, excess hair shedding, rashes, and itching, among many others. The toy dog is a happy and friendly breed, and the only way to keep it just as comfortable and active is by feeding it well. Luckily, for you, the market provides you with many diet options for different stages of your toy pup's growth.
The above list of quality recipes are from some  of the best brands in the market today. They come with quality ingredients specially designed for the small breeds. Whichever diet you choose for your dog, you can rest assured that the ingredients will go a long way in ensuring that your pet receives all the nutritional benefits needed for quality health.
No products found.