Why lure common backyard birds far away from your deck with an out-of-sight bird bath when you can attract them with a bird bath mounted on your deck?
In my opinion, the best deck-mounted bird baths include a bowl that can be removed for cleaning, while the 'G'-clamp-mounted frame stays stable. The size of the water bowl is preferable to its depth. The bird feeder dish or bracket might be an added bonus, rather than the only purpose of the bird bath.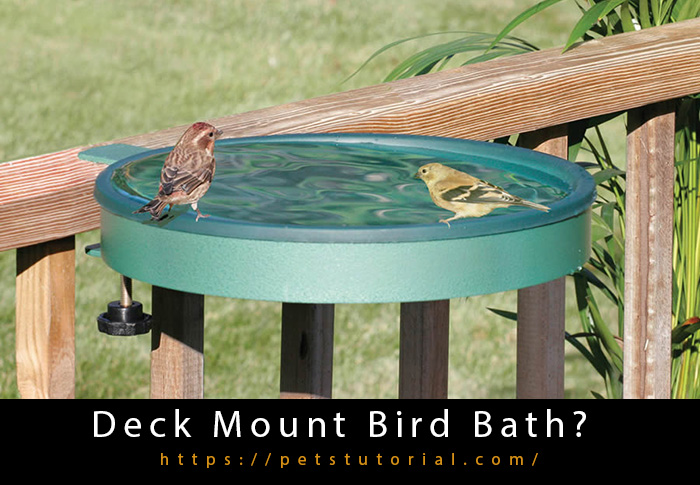 Believe it or not, I struggled to put together this list of the best deck mounted bird baths for you, but in the end I have good selections for you to consider.
Keep in mind that many of these deck-mounted bird baths seem the same, with just a few minor but crucial details separating them.
You will receive a bird bath dish with a terra cotta color scheme and a metal frame with a black paint job. A simple G-clamp bolt can be used to attach any deck-mounted bird bath to the railing.
The plastic or steel bowl of the bird bath may now be removed without removing the frame from the railing, making cleaning and maintenance much easier.
It's important to remember to clean the bird bath bowl on a regular basis to maintain clean water for the birds.
Accessories, like separate clamps to secure the lightweight bird bath basin to the metal frame and prevent it from flying off in a breeze, can be included as well.
Since it can be challenging to entice wild birds to utilize just a bird bath in the yard, I'll leave you with the suggestion that you give a deck-mounted bird bath bowl with a bird feeder dish incorporated some serious consideration.
Bird bath mount faces outward
Permit me to spare you some effort by sharing my knowledge of installing a bird bath on a deck.
The location of the bird bath bowl on the railing is crucial for attracting birds of all kinds and for maximizing the benefits of having a reflective surface facing south or southeast.
The bird bath bowl on the railing should preferably be oriented so that it hangs over a section of your yard.
I can almost guarantee that you won't be able to see the bowl of the bird bath if you install it such that it faces inwards, or hangs over the deck. The twin characteristic of unclean water and bird food will also leave a stain on the wood.
Keeping this in mind, if the bird bath bowl is swung alone or if the bird feeder dish is swung separately but still hung over a wooden railing, it will eventually show wear and tear.
Vertical clamp style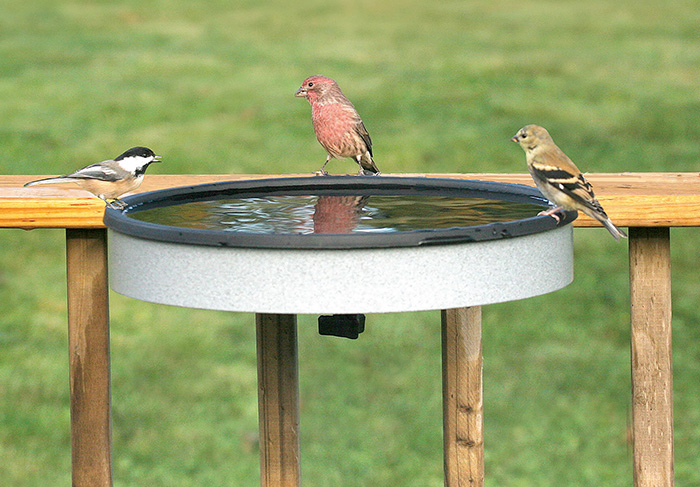 First, a 'G' style clamp, which is secured with a nut, is going to be installed on the deck railing, balcony railing, or other type of railing.
The best deck-mounted bird baths feature a sturdy vertical clamp, not a horizontal one.
You can screw it on a little more easily without having to bend over the railing, and it will stay put once it's in place.
Though this form of clamp is fine for use on a deck railing, it is not recommended for use on a balcony as it may cause people to lean over the edge.
The plastic or steel basin of a deck-mounted bird bath can be removed for easy cleaning. The original railing framework doesn't have to be removed in order to perform routine maintenance on the bowl.
Centralize deck railing clamp
Those of you with very wide deck railings can disregard this warning, but anyone with a slimmer rail will notice if the clamp slips.
To make sure the clamp stays there, you should make sure it is fastened in the middle of the railing; if the railing is very wide, the clamp should be screwed on all the way.
Of course, I'm referring to square-shaped railings, but the g-clamps included in my collection of deck-mounted bird baths will also work with a narrow, rounded railing.
There is a chance it could come loose if you open it up to attract birds, but you should probably handle it first.
Birds will flock to any type of bird bath in your yard, including a bird bath installed on a deck, so make sure it is safe for the birds to use and enjoy.
Solar powered fountain compatible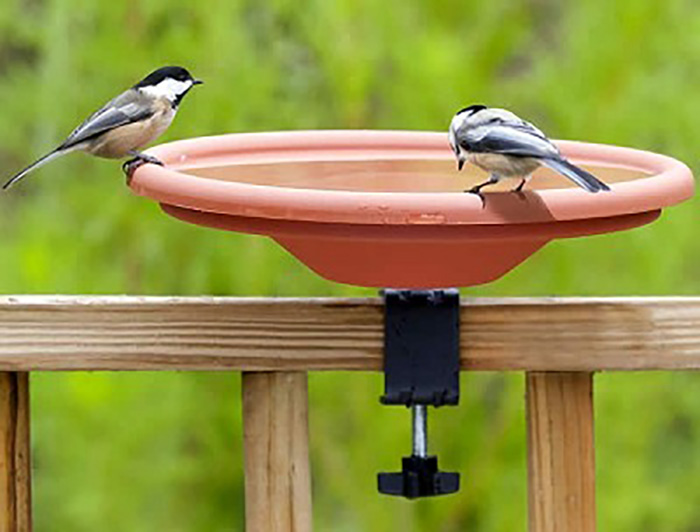 I don't want you to spend your hard-earned money on a deck-mounted style bird bath if there's a chance you might end up wasting it and having to think about upgrading anyhow.
That is because the noise made by a fountain bird bath is very appealing to the birds.
Put a solar-powered fountain right into the water bowl of your deck-mounted bird bath if you don't see any birds using it in the following weeks or months.
For this reason, the bird bath basin needs to be wide and flat, which isn't too difficult to achieve, so that the fountain feature may be set up. So, I have included a number of deck-mounted bird baths that are sufficiently wide for a fountain.
If the water is too deep, you can rectify that by filling the base with pebbles, and I've got you covered because I think this is how you attract birds to utilize a bird bath.
Smaller birds won't be able to use your bird bath if it's too deep, but more invasive species will still be able to utilize it. If you want to offer your favorite backyard birds an opportunity to bathe and stay hydrated, you should make the water less deep.
Listed deck mounted bird baths
| | | | |
| --- | --- | --- | --- |
| Product Name: | Clamp Size: | Bowl Size: | Clamp Position: |
| Vencer – Deck Mount Bird Bath | 2.75″ | 11.8″ | Offset |
| Solution4Patio – Deck Bird Bath & Feeder | 1.8″ | 9.7″ | Central |
| Hanizi – Deck Mount Bird Bath | 2″ | 12″ | Central |
| Yosager – Deck Mount Bird Bath | 1.7″ | 11″ | Offset |
| Gray Bunny – Deck Mount Bird Bath & Feeder | 1.25″ | 7″ | Central |
| Aristea Nova – Deck Mount Bird Bath | 2.5″ | 11.5″ | Offset |
| Fabulas – Deck Mount Bird Bath Bowl | 2″ | 11.6″ | Central |
| Gray Bunny – Deck Mount Polypro Bird Bath | 2.15″ | 11.8″ | Offset |
| Woodink – Audubon Deck Mount Bird Bath | 2.75″ | 11.5″ | Offset |
| Vencer – Deck Mount Steel Bird Bath | 2.75″ | 11.8″ | Offset |
Brand names; The inside dimensions of the clamp determine its ability to fit over a particular size of railing. The width of the entire bowl is what the "bowl size" refers to when discussing bird baths. The position of the clamp refers to its physical location.
Here is a straightforward table containing information about the features of each of the top deck-mounted bird baths that I have published.
Product names aren't as significant as the information provided in the clamp size column, which reveals that most clamps will be used vertically, with the occasional 'G' style clamp used horizontally to secure a section of deck railing.
The size of the bowl in the bird bath should be considered alongside any minor compatibility difficulties.
Because of the large number of birds in your yard, a standard sized bird bath may not be necessary, but a smaller backyard will. Although there isn't much of a difference in bowl size, a few more inches can make a bird bath fountain work.
The value in the 'Clamp Position' column indicates whether the G-clamp is positioned centrally or slightly off center.
You'll need to know that so your bird bath/feeder combo doesn't topple over to one side and break the deck railing.
1. Vencer – Deck Mount Bird Bath
Two for the price of one on this deck mount bird bath as sold at a reasonable price on Amazon.com.
What I have for you first up on my 'Best Of' is this more than capable double featured deck mounted bird bath with bracket.
You're probably familiar with the struggle of trying to entice birds to use a brand new bird bath. Now, you won't have to.
Due to the fact that birds are attracted to color, this stainless steel bird bath bowl will attract them. Furthermore, the bracket on the other side of the bowl allows you to place a bird feeder of virtually any design.
A bird feeder is the single most important item in getting birds to visit your bird bath. After eating from a seed, nut, or suet bird feeder, the birds may be interested in drinking water or taking a bath, but that is up to you to decide.
The bird feeder and bath are on opposing sides of this deck-mounted bird bath.
In the meantime, the central clamp can support the weight of a fully loaded bird feeder or a dish of about the same size used as a bird bath without worrying about breaking the railing.
Although I usually discuss feeding birds with seeds and suet, you can certainly use this deck mount to suspend a hummingbird feeder from your balcony's railing.
2. Solution4Patio – Deck Bird Bath & Bird Feeder
If you want a double feature, but think it's too expensive, think again because Amazon has it for a reasonable price.
A bird bath just water bowl is nice, but a bird bath and feeder dish is like getting two for the price of one and is sure to draw in more birds.
You see, luring birds to a bird bath, much less one perched precariously on the deck railing so near to the house, is not always possible.
A bird feeder, especially one with an open top like this one, is a great way to attract a variety of backyard birds. This feeder is suitable for larger birds like Blue Jays and Northern Cardinals, as well as smaller birds like finches and sparrows.
With the feeder dish securely fastened to the central deck mount pole, you may attract birds primarily to feed them, with the bird bath serving as a nice addition.
Both bowls can be used for water or bird food, but the one used for food needs to be cleaned more frequently to prevent a buildup of rotting food and the subsequent growth of bacteria.
This deck-mounted bird bath and feeder is designed to provide shade for your yard and deck when in their default position, but can be rotated to provide additional space above your deck when needed.
3. Hanizi – Deck Mount Bird Bath Bowl Spa
A bigger Amazon purchase may be a bit more expensive than expected, but the extra space is well worth it.
Though not as high-quality as a true terracotta or ceramic bird bath, this deck-mounted dish serves its purpose admirably.
Any material other than plastic or metal will crack or rust quickly in the yard, so a bird bath bowl like this one is all you need to outlast other models.
Your purchase will include a steel bird bath frame and a bowl that can be removed and used separately for smaller bird baths. This frame is clamped to the rail and left there while the bowl is removed for cleaning or restocking.
The clamp's fit isn't perfect, but it should be adequate for the railing you have.
When mounted on a railing, this bird bath bowl perched atop its contrasting black frame would hide much of the railing, making for a more aesthetically pleasing finish.
If you don't have much luck using the bowl as a bird bath, you may always turn it into a bird feeder.
4. Yosager – Deck Mount Bird Bath Bowl
Amazon prices are lower than average, but by no means cheap.
The traditional terracotta look comes back, this time in a bird bath bowl constructed of long-lasting plastic and finished with a sleek black metal stand.
In addition to its usual detachability, this bird bath features a clamp-on railing frame that is both smaller and less obtrusive than usual, drawing attention instead to a large bowl in which birds can bathe.
The bird bath's bowl may be as wide as 11 inches, so it's suitable for a variety of birds without being excessively large. Keep in mind its size before purchasing; if you have a small deck, installing this bird bath may force you to sacrifice needed space.
If the tranquility of the water isn't enough to entice the birds, the flat base bowl of your bird bath is ideal for adding a solar-powered bird bath fountain.
Because of the asymmetrical orientation of the G-clamp, the bird bath bowl can be hung only from the edge of a deck or the yard rather than in the middle.
The bird bath basin can be removed for cleaning while the metal frame remains attached to the deck.
5. Gray Bunny – Deck Mount Bird Bath & Feeder
Now we're talking about an actual, half-price bird bath for railings that you can buy on Amazon.
This deck mount bird bath and feeder is so fantastic, I'm beginning to wonder whether I should have put it higher on my list.
This two-in-one bird bath and feeder features two bowls attached to a clamp for maximum convenience.
This time around, we have a plastic bird bath bowl that can be removed with ease from its metal ring. Along with the bowl, a metal mesh tray serves as a bird feeder, and it, too, may be removed for cleaning and maintenance.
Birds can be discouraged from defecating in the bath by perching above the wire dish, but with this setup they have no choice but to use the bowl itself.
This bird bath may be rotated to any desired angle, eliminating the usual challenge of installing a deck-mounted bird bath.
In order to free up valuable deck space, you can flip the frame over so that the mesh dish bird feeder is suspended from the deck railing and the bird bath basin is perched on top.
If you want to keep the bird food from getting on your deck or railing, you should place the mesh dish over the yard.
6. Aristea Nova – Deck Mount Bird Bath
Though the additional bowls are a nice touch, the high price tag makes this the most expensive feature when shopping for this item on Amazon.
You get three bowls in all, one in a classic terracotta hue that's always a hit and two more, one each in black and white, to mix and match as you see fit.
One or the other of these bird bath bowls may better complement the aesthetic of your deck and yard.
If the bowl is facing out into the yard, rather than being placed over the deck, the black framework will stand out and will coordinate well with any black railing.
Lifting either bowl of the bird bath allows you to quickly swap them out, and they simply slip back into place after use.
This bird bath basin does not have a level base, so a fountain may not fit. Larger birds may prefer the bird bath's deeper core, while lesser birds need just use its outer rim.
This G-clamp may be easily wrapped around any type of railing, whether it is squared off or rounded.
7. Fabulas – Deck Mount Bird Bath Bowl
This one is offered for a price that is affordable, especially considering that it comes with a number of extras, and you can buy it from Amazon.
This deck-mounted bird bath bowl may look complicated at first glance, but it's really just a standard bird bath for the deck, albeit one that comes with some handy extras.
Once again, we have a terracotta-themed bird bath bowl, however this one is more opaque and feels more like plastic than the others I've mentioned.
The standard black metal stand for the plastic bowl is included this time.
Mount this G-clamp equipped frame centrally on your railing for a permanent display. The bird bath component steals the show, while the low-profile framework ensures it doesn't draw too much attention to itself.
The bird bath may be disassembled for cleaning, and the clamp can be used to securely attach the unit to a round railing.
One potential problem with a plastic bird bath bowl of this little weight is that it can be easily blown away by the wind.
The manufacturer has thought of that problem and supplied you with four separate clamps to secure the bowl to the stand. A soft bristle brush is included as a free extra to help you scrub the toilet bowl.
8. Gray Bunny – Deck Mount Polypro Bird Bath
The Amazon price is the second lowest on my list.
You've probably figured out by now that a tan or terracotta bird bath is the preferred color scheme; I find that it looks particularly good against the constant black background.
Here we have a typical bird bath, complete with a frame for mounting it on a deck. It's removable, so you can take it apart to wash it or bring it somewhere else to restock with fresh bird food once or twice a week.
Due to the substantial projection of the G-offset clamp's position, it is preferable to have it pointing away from the deck, into the yard.
It's not another bowl with a flat base, but you can turn it into a bird bath by adding pebbles.
The combination of its sturdy metal frame and polycarbonate bowl means it can support a lot of extra weight.
If you want to hang this bird bath bowl from a railing to attract wild birds, you need make sure the railing won't crack or splinter if you fill it with stones or other decorations.
9. Woodink – Audubon Deck Mount Bird Bath
Standard cost for a railing bird bath from a reputable brand on Amazon.
I'm not sure why, but the majority of deck mount bird baths are a uniform tan in color. This may have been inspired by a recommendation from Audubon or the well regarded Woodink, but I have no idea.
Again, I have a dependable bird bath bowl that can be put onto a metal frame in either black or green.
The bowl of this bird bath is quite large, so it should accommodate a variety of different sized birds with ease.
In addition, the pigeons and other larger birds may have a good bathe while preening their feathers thanks to the bird bath bowl's considerable depth.
The G-clamp has a large, simple nut for fastening it to a railing of any shape.
The metal structure only needs to be taken apart once, and once you've found your way back to it, you can leave it there forever; the bird bath bowl, on the other hand, can be taken apart and put back in one easy motion.
10. Vencer – Deck Mount Stainless Steel Bird Bath
This time around, purchasing on Amazon does not offer a significant pricing advantage due to the stainless steel component.
Finally, I have something a bit different for you; instead of a brown bowl, this one is made of stainless steel and looks quite nice.
This time, it seems rather out of place when mounted on a metal or wooden railing, but the metal g-clamp and matching frame will help it blend in beautifully.
This silver bird bath bowl's reflective qualities draw the attention of birds already in your yard, and if placed high enough in your yard, passing birds will notice it as well thanks to the sun's reflection.
Because of the enhancement of the water's reflective properties, this element is likely to draw in an even greater variety of backyard bird species.
To prevent the bowl from being blown off by the wind, there are extra, separate clamps.
If you have a metal deck-mounted bird bath bowl like this one, you should line the bottom with pebbles so that birds of all sizes can wash and drink without fear of slipping.