The height of a bird feeder is not a determining factor in its success or failure; in fact, larger feeders provide more space for bird seed and are therefore preferable in active gardens.
A tall bird feeder allows for more birds to feed at once, which is why many people choose them. There is no mandated minimum height for the feeder, however a broader design may be preferable to a longer one. Get a tall feeder if you want to attract a variety of birds, and keep a compact feeder for your garden if you don't get a lot of visitors.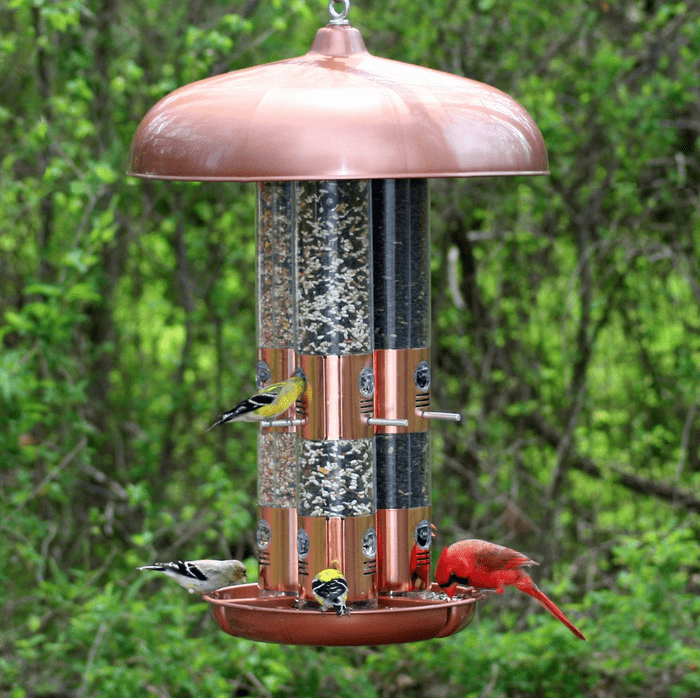 In reality, the optimal height of any given bird feeder is entirely up to the individual, as well as the requirements of the various species of wild birds that you hope to attract.
Unless you have a very big number of wild birds regularly visiting your feeders, you can continue to utilize a small or medium sized feeder with the same level of success that you have been having with a taller one.
The number of times per week you'll need to refill all of your bird feeders will vary depending on their height and the amount of food they eat.
Multiple birds can feed on taller bird feeders but of course it isn't to suggest you must replenish it to the top, knowing the bird food will go to waste as it expires before its finished up in less than a week.
If your bird feeder is too tall then don't stress it, just use less peanuts or seeds to avoid waste.
A seed or peanut feeder typically stands between 6 and 8 inches tall, however the tallest ones can reach up to 24 inches in height.
And there you have it; a tall feeder is indicative of a feeder with a big capacity, meaning it can store a lot of food for birds, while a broader feeder style may be preferable if you want to keep the same overall dimensions.
No bird feeder height requirement
There is no correlation between the total height of the bird feeder you use in your backyard and the number of birds you attract.
No such rule exists for the minimum or maximum height of a bird feeder.
For sure a bird house must be a specific height and in many aspects, so can a bird bath be tall when its constructed to be a certain height from the ground, provided its mounted to a stand; which of course will keep wild birds far off the ground, in safety.
Where a bird feeder is tall, such as a tubular transparent plastic seed feeder or wire peanut feeder, then of course it will define the feeder as a larger size.
However, the optimal height of a bird feeder is highly situational; you should only get a higher and, hence, larger bird feeder if you are confident that the bird food will be devoured before it is no longer safe for birds to eat.
Keep in mind that you wouldn't need a huge feeder if the birds only ate a modest amount of food each day over the course of several days.
Height correlates to size
If you have a lot of wild birds visiting your yard on a regular basis, then the height of your bird feeders should reflect that.
That means you'll need to invest in a feeder that's somewhat taller and wider to accommodate the birds you want to attract while discouraging the ones you don't.
If a bird feeder has a large capacity, such as peanuts, seeds, or a long cage-like suet fat ball, it will be rather tall or wide.
A tall bird feeder is unnecessary if a wider one may serve the same purpose.
Some seed dispensers for birds are just about 8 inches long, while others, designed in a tubular fashion, can reach a full 24 inches in length.
If you expect the birds to consume the food in a short period of time, say a few days, then you might give a long-lasting seed or peanut bird feeder more attention.
The regular flocks of wild birds that visit your feeders won't go hungry, so you won't have to fill them as often.
Go tall to allow multiple birds
Use tall bird feeders if you have the good fortune of having many visits throughout the day from Blue Jays, Bluebirds, Finches, and Sparrows.
Because seed tube feeders typically include several feeding ports, enough for six or eight birds to eat at once, tall bird feeders can be used by birds of many different kinds.
Reduce the size of that feeder to just two feeding ports, and suddenly you'll notice the birds are squabbling, making a lot of noise, or vanishing altogether.
Use a large feeder like this one to attract a wide variety of wild birds that won't be rushed when feeding and, ideally, won't cause you any unnecessary hassle.
Although smaller, disc-shaped hummingbird feeders have their uses, the best types are those that feature an inverted nectar bottle.
With fewer area to clean and maintain, you'll have better visibility.
On the flip side, taller bird feeders and hence larger bird feeders will open up the feeding area to perhaps nuisance starlings or large birds which raid feeders.
Favor short, wide bird feeders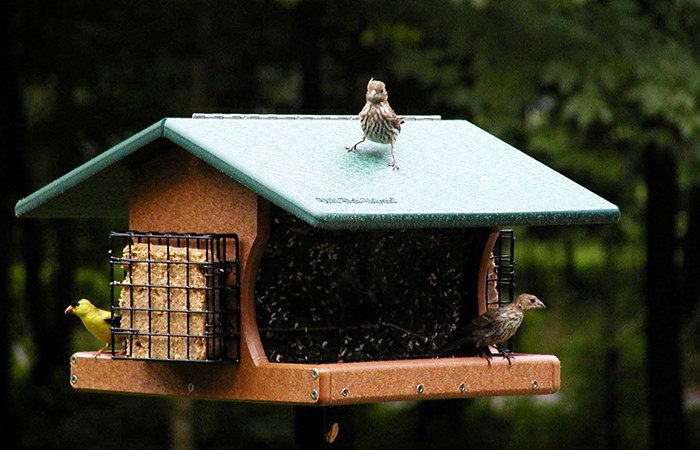 If you want a tall bird feeder, go for it; but, I find that the broader clear plastic, lantern form, or panoramic seed design feeders look much better when placed in a tree or from a bird feeder pole.
To discourage larger birds from using the feeder, a spill tray or huge perching space should be avoided in favor of a short, wide feeder.
Although a taller feeder will naturally keep its food away from the ground, a wider feeder will attract just as many birds.
The rule of thumb is that the lower the height of the bird feeder, the closer it is to the ground. The end result is a squirrel, raccoon, or even your dog or cat can get to the bird seed in your feeder.
A bird feeder that is both wide and short doesn't need any special installation or hanging equipment.
How tall must a bird feeder be is up to you of course, but its easy to forget a really tall feeder will require re-adjusting to keep the all important 4-6 feet above the ground clearing.
Summary
I realize there's a lot to think about when setting up bird feeders for the first time, or maybe updating your current bird feeder selection after many years of the same few being used.
How high a bird feeder is from the top of the lid to the bottom point doesn't matter at all, I can assure you of that. That's right, there is no height requirement for any form of bird feeder.
Height is directly related to the size of the seed, peanut, or other bird feeder, although a large feeder need not be very long; instead, it can be made quite wide.
Go for a tall or wide larger bird feeder if you desire but unless the bird food that is left out for your birds is eaten before it expires, you may as well continue to utilize a small to medium size bird feeder.
Since the number of birds that visit your feeders on a regular basis is directly proportional to their height and width, it is important to provide additional feeding space by installing taller feeders.
If you find it can get congested at your bird feeders then you may notice the birds get louder, and hence are seen to quarrel or argue.
For the time being, if you see that very few birds are using your feeder, or any feeders, I recommend sticking with a smaller to medium-sized feeder.