A dog humping the air is a common occurrence, especially if your dog is still very much a puppy or if he hasn't been neutered. Humping and mounting are normal behaviors for dogs that can be annoying to some owners. If your dog is currently humping the air, here are a few reasons why this could be happening as well as how you can stop the behavior.If you've noticed your dog humping the air, there are multiple explanations to explore. It is important that you learn about this behavior so you can respond to it appropriately.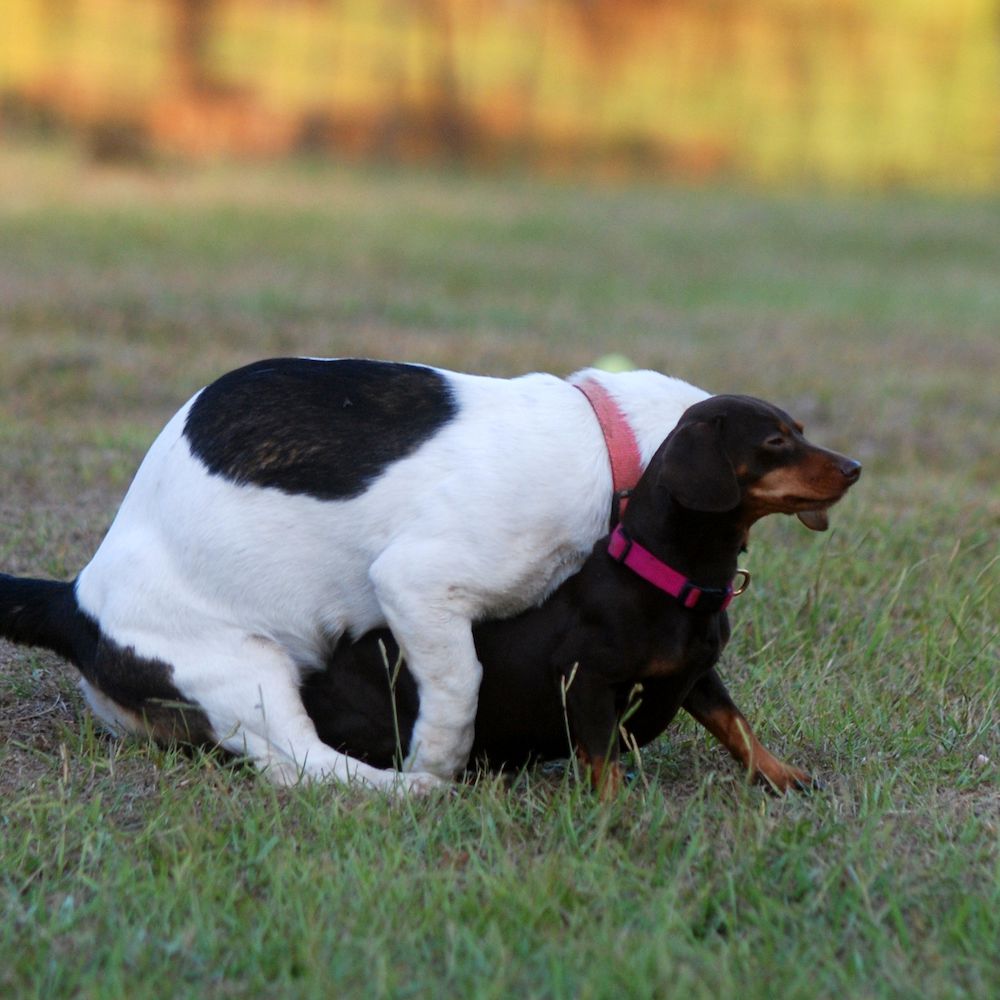 They Are Humping Out of Excitement
Your dog could be humping the air purely out of excitement, which could be due to another person or another animal around that the dog wants to play with. If the dog is aroused he might be looking to just hump the air or a nearby object, such as his bed or a stuffed toy. Not all dogs will hump out of excitement, but it's a behavior that can be tied back to being overly excited.
Humping Could be a Sign of Dominance
A lot of people don't think about humping being a form of dominance in the dog world, but it can be in certain situations. When a dog is trying to hump either an animal or a person, it could be a dominance type of situation where the dog basically wants to achieve social status. It's also a way that the dog knows how to control the person, animal, or situation, and sometimes will hump to ensure that control is known.
Humping Could be a Form of Dog Play
Sometimes a dog will go around humping the air as a form of playing, and it's thought of as normal playing behavior. When it comes to dogs or puppies that aren't good at socializing or have very few socialization skills, they might be humping because they aren't sure how to play. Dogs that are excessively aroused during playtime, especially with other dogs, might be more likely to air hump. When a dog is air humping during a time of play, it's unlikely he will display any other signs of sexual behavior.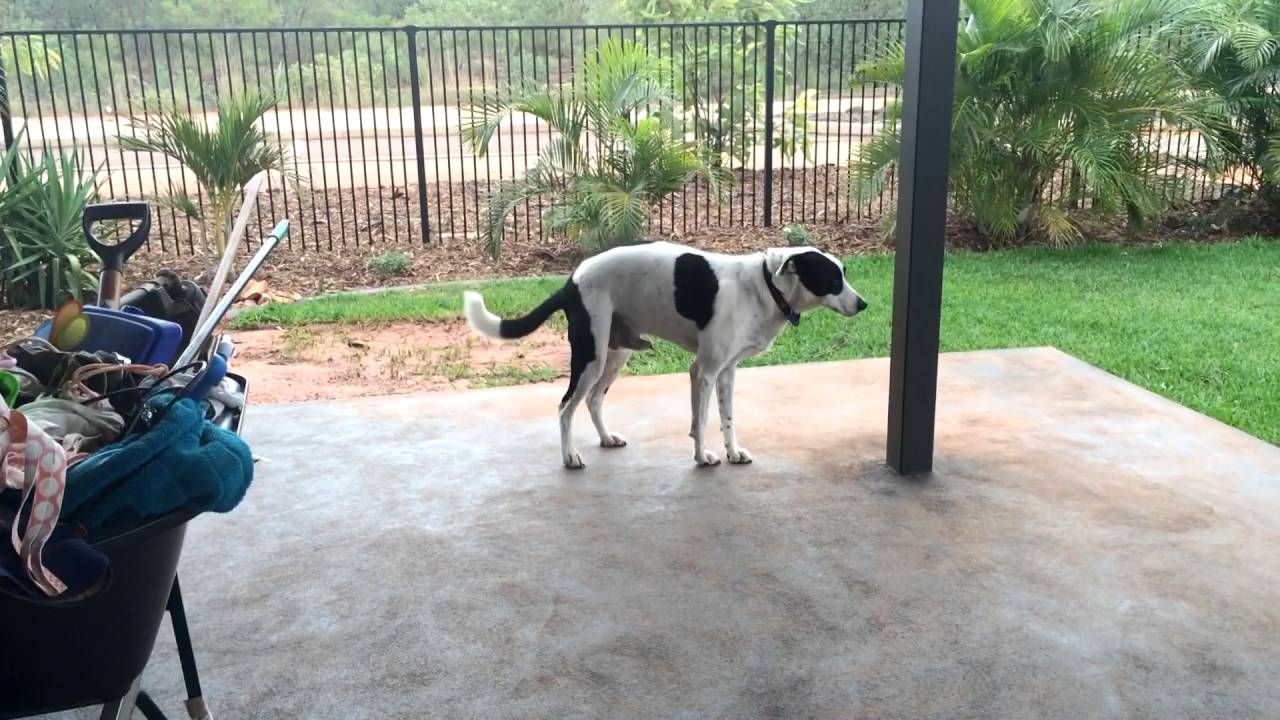 How to Discourage Your Dog from Humping
The best thing you can do to discourage the humping behavior is to neuter your male dog if you haven't done so already. A lot of the time, neutering your male dog will stop this behavior from occurring, although it could take a few weeks after the procedure for it to stop completely. If your dog has already been neutered but still performs humping behaviors, there are a few steps you can take to try to stop this behavior.
It's also a good idea to teach your dog a command, such as "Sit!" that you can use when you see he is about to hump either another animal or person. Give your dog treats as a reward for sitting and then use this command when you see him getting ready to hump. If your dog has a certain trigger that puts him into the mounting mood, be aware of this and try to use the commands and redirect during these triggering times.
If you believe humping is a form of aggressive behavior, it's important you seek out help from a veterinarian or behaviorist. A veterinarian can make sure that no medical issues are to blame for this behavior, which could be why your dog is acting more aggressive.
Urinary tract infections, skin allergies, and priapism are just some of the medical issues that might explain the mounting and air humping behaviors. Once medical issues have been ruled out, you can move onto a behaviorist, which can help your dog overcome the excessive humping behavior.
Humping Behavior in Dogs
Humping is a normal part of canine behavior that can occur in dogs that are less than one year old. While it is not an immediate cause for concern, it can be a sign that you need to take some sort of action. It is important that you first understand why your dog is doing this by examining some of the possibilities.
Why Your Dog is Humping the Air
They are Just Excited
It is certainly possible that your dog is thrusting its crotch in the air out of sheer excitement. This is fairly common when a dog is near a person or another animal that it likes. It's a non-sexual sign of excitement that is similar to jumping around or wiggling its butt back and forth.
You might notice that your dog starts humping the air when you walk through the door after being gone all day. This just means that they are happy to see you, which is ultimately a good thing. While not every dog does this, it is more common than you might think. Dogs of all different breeds have been known to display this type of excitement behavior.
It's a Play Type of Behavior
There is also a chance that your dog is humping the air because they are trying to be playful. This actually happens a lot with dogs that were not properly socialized at a young age. It could be that they just don't know how to engage in this behavior.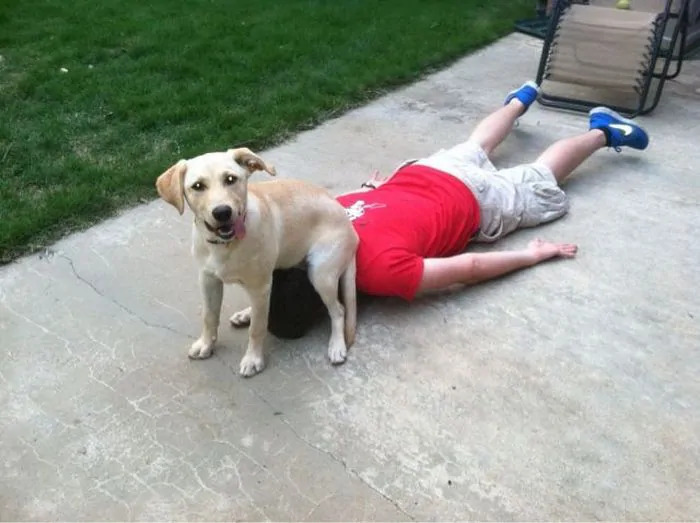 Your dog might hump the air or nearby objects as a way of trying to make friends with a new animal. This is something that can happen when you take an improperly socialized dog to a park where other dogs are present
Conclusion
While humping behavior is perfectly normal for dogs, it can indicate an underlying problem.
A lot of dogs hump the air because they are excited to see their owner.
This could be a playful behavior with your dog, especially if it wasn't properly socialized at a young age.
If you have recently brought any new dogs into the house, your male dog might hump them as a show of dominance.
Humping as a means of displaying dominance is normal for dogs.
Dogs that are very stressed or anxious sometimes hump nothing in particular as a way of comforting themselves.
There is also a chance that your dog's humping is caused by a female dog that is in heat.
If you want to put a stop to this behavior, you should consider getting your dog neutered.
Spending more time with your dog could also help put an end to their humping.