Today, most people treat their canine pets just like a spoiled child or a dependable companion. They bring their dogs along whenever they are eating out, having coffee, or shopping because they feel it is more fun compared to going alone. However, when it comes to departmental stores, not all of them allow dogs inside their stores.
If you are shopping in a place like Walmart, you need to know whether they have a dog-friendly policy. Most people complained that they were thrown out for having their canine pets with them. They had seen people walking around the stores with their pets and thought that the store has no restriction for canine pets. Before taking your four-legged friend to shop in Walmart, you need to call them up first, because Walmart only allows service dogs inside their stores.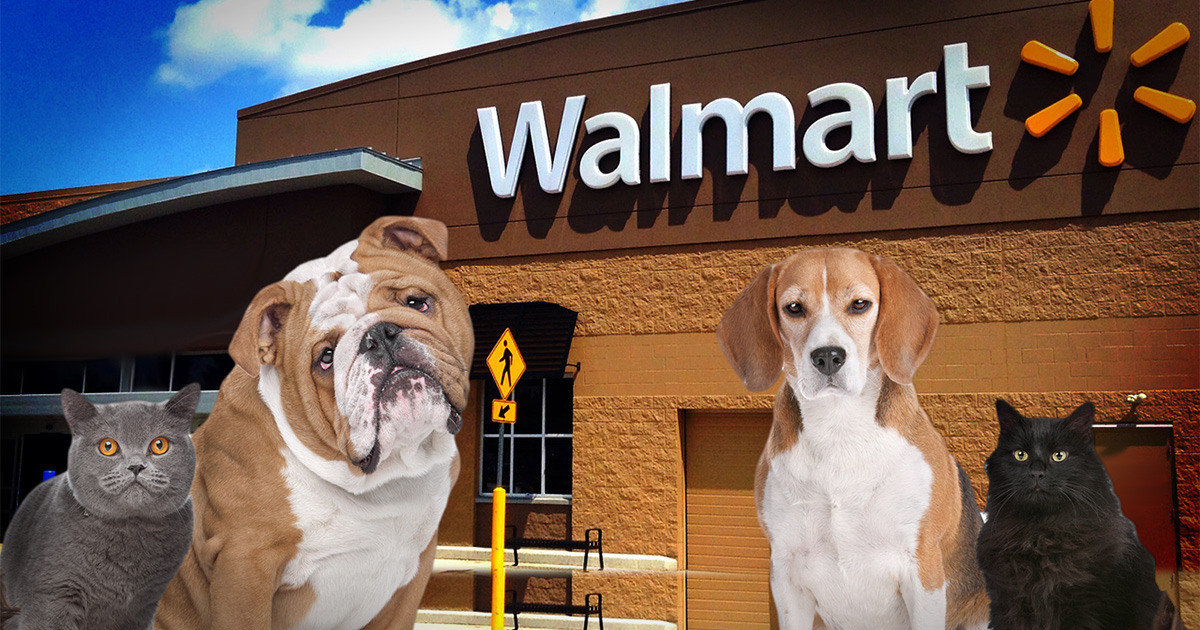 Why Does Walmart Allow Service Dogs?
Services dogs have been specially trained to assist people who have different disabilities, just like therapy dogs.  People who need the assistance of service dogs include those who have hearing or visual impairments, social anxiety disorder, mobility problems, mental illnesses, or PTSD. There are different kinds of service dogs, big or small based on the circumstances and individual presences. These dogs have undergone training to assist people with disabilities and they are accredited.
Most dogs understand the basic commands such as "heel" and "sit". However, service dogs must learn special commands so that they can take great care of their owners. For instance, Yorkies have been trained to detect subtle changes in the blood sugar levels for individuals suffering from diabetes and epileptic seizures. Golden retrievers can assist blind individuals to cross the road or move up and down the stairs.
Does Walmart Allow Pet Dogs?
On their official website, Walmart indicates that they only allow service dogs inside their stores. Non-service stores are not allowed because of food safety concerns. However, this policy may not be the same in all the Walmart branches because some store managers may have different policies, known as "per manager" policy. Therefore, if you want to go to Walmart with your pet to get emotional support from your pet, you should meet with the Walmart manager to seek permission to bring your four-legged friend into the store.
Why Are Normal Pet Dogs Not Permitted in Walmart?
There are many reasons why Walmart does not allow pet dogs into their establishments. The main reason has to do with the risks of contamination and disease or infections. Dogs cannot be allowed into grocery stores like Walmart because of health codes regarding premises that sell and serve food. According to the foodservice codes from the FDA, having animals inside retail stores is unhygienic. Some of the issues that may arise when dogs are allowed into stores like Walmart include:
Some shoppers may be allergic to dog hair
Dogs can contaminate foods in Walmart stores
Some dogs may have ticks or fleas
Some shoppers are fearful of dogs
Not every pet owner can control their dogs properly
Even well-trained dogs can still mess the store's floors
What You Should Know Before Shopping With Your Canine Pet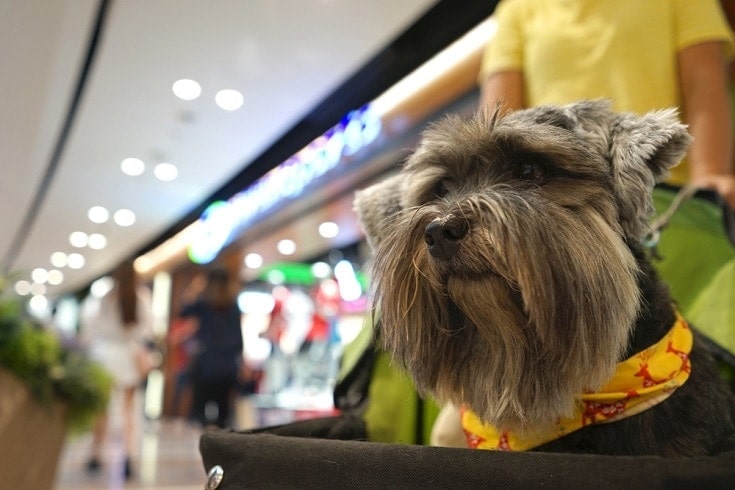 If you are shopping with a small service dog, be sure to use a handy and soft carrier such as a portable backpack, a carrying case, or a sling carrier bag. If your dog is bigger, ensure that they have a comfortable collar and a leash. You should always attach the "service dog" card where it is clearly visible or use a harness to guarantee better control. Always select the right collar and leash based on the purpose, for instance, traffic leash for emergencies and LED glow leash is perfect for night shopping.
All service dogs should be trained before the actual shopping event. You must also ensure that your dog can feel comfortable when in a crowd and can handle an accident. This is because even the well-trained dogs may still feel uncomfortable in a busy retail environment. For example, dogs can be intimidated by loud noises or a fussy child. Before venturing out, service dogs should be trained to be well-socialized.
In A Wrap
For most people shopping in the company of your dog is undoubtedly a fun and exciting experience. This is why pet parents around the country always want to know the dog policy of retailers in their locality. Like other retailers, Walmart does not allow pets in their establishments unless they are service dogs. This policy mainly emphasizes on the health and safety protocols that are pertinent to all retail establishments. Therefore, next time you want to go to Walmart, be sure to leave your four-legged friend behind.