The safety of the paint used to decorate a bird feeder is a valid worry; in fact, there have been documented cases of birds becoming ill after coming into contact with painted feeders.
Paint a bird feeder without worrying about its safety as long as you choose a non-toxic, water-based paint that is designed for use outside and only on wooden garden ornaments. The grain of a wooden platform or a slatted hanging feeder for seeds or nuts can be highlighted by painting it a light color. Make sure paint doesn't seep into the meal as a top priority.
Whether you're looking to spruce up an old feeder or purchase a new one to complement your garden, the notion of painting it is an exciting one.
You certainly may if you use non-toxic paints intended for outdoor furniture; these colors are meant to withstand the elements and can be applied with a brush; spray painting is unnecessary.
Using paint from a reputable paint factory, you can paint or stain a bird feeder whatever color you like, though pastels or more natural wood tones are also nice.
For a more earthy look, use Majic Paints Town & Country Exterior Latex Satin Paint in Classic Satin Red or Cuprinol Garden Shades Seasoned Oak for your bird feeder's final coat of paint.
You can use a bigger can because touch-ups are inevitable, but in practice, a 500 ml or smaller can of paint will do the trick.
Only use non-toxic or water-based paint on your hanging wooden bird feeder, hopper-style feeder, or bird feeding platform to ensure the safety of the birds, pets, and plants.
Non toxic paints only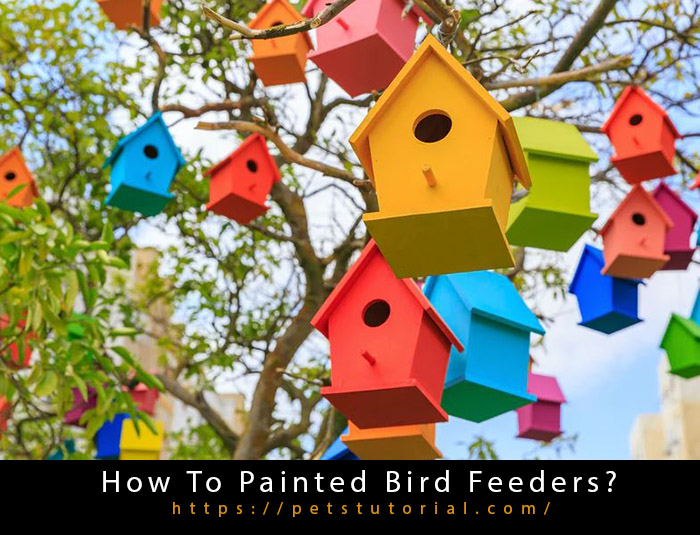 Any form of bird feeder can be painted safely for outdoor use as long as you stick to non-toxic paint.
For this reason, I recommend not painting a wooden bird feeder or bird feeding platform but instead treating it exclusively with a preservation treatment.
Thankfully, when they have dried, or cured, most outdoor paints used for painting backyard furniture, sheds, fences, arbours, summer homes, trellises, tables, chairs, etc. are safe for animals or people to come into contact with.
While it is dangerous to come into contact with liquid toxic paint, it is much safer to handle and even ingest in small amounts once the paint has dried.
To avoid paint bleeding onto feed, use only one coat of a high-quality exterior paint brand and brush it well into the grain.
Avoid painting Feeder interior
It can be difficult to prevent getting paint on the part of the feeder that actually comes into contact with the wild bird food when painting a wooden bird feeder that hangs, is mounted, or is a covered feeding platform.
If you want to attract more birds to your yard, consider painting a plain wooden bird feeder.
Envision painting a bird feeder without disturbing the natural grain, yet avoiding the food areas.
Unsurprisingly, this leads to an incongruous mixture of painted surfaces and exposed wood.
There's no way that this style would complement the rest of the backyard landscaping, but I doubt anyone would be unhappy to have it remain unchanged.
Brushing deep into the grain with a high-quality paint can prevent paint from leaking into the seeds, peanuts, or trash in a wooden hanging bird feeder or on the feeding platform of a ground or bird feeder mounted on a post.
Exterior paint only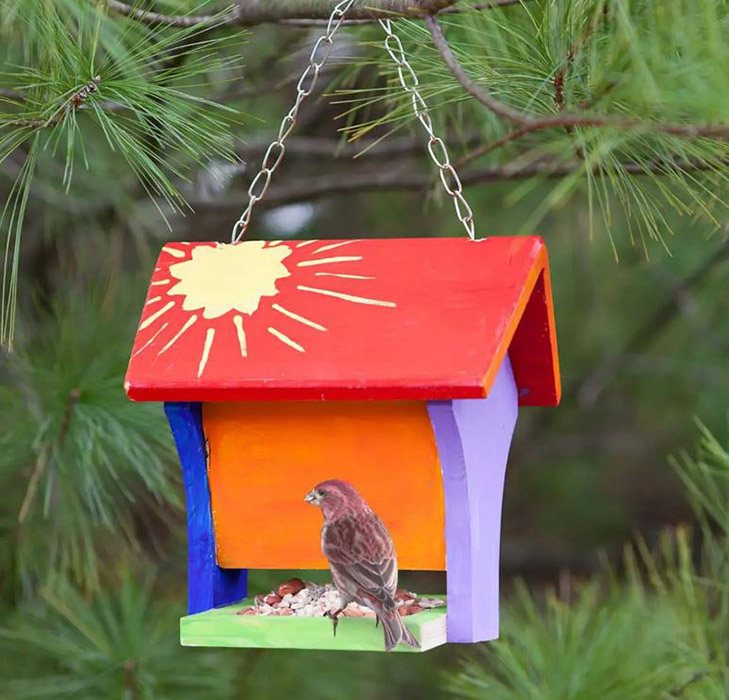 Spend the extra money at The Home Depot or Lowes to get bird-safe paint for wood; interior paint won't last more than a few weeks outside.
You may forget about worrying if the paint will stay to the bird feeder and instead concentrate on choosing a color that will stand out against the background.
A bird feeder is a perfect candidate for an outdoor piece of furniture that may be painted with exterior paint. It's important that the outer formula is durable enough to endure the environment.
Wild birds encounter feeders in the same way that pets encounter painted furniture. Once paint has dried, we know it is completely safe for all living things, including plants, animals, and other humans.
You can easily paint the outside of the feeder with a brush and some paint, but keep in mind that you won't be able to conceal the grain unless you apply several coats, at which point the feeder can end up looking more plastic-like for all your efforts.
No odour or lasting smells
Non-toxic, water-based formulas of the type of modern exterior paint used on wooden patio furniture emit even less of a stench straight from the can.
What this implies is that you can safely paint your bird feeder without worrying about any lingering fumes turning the birds off.
Wood that has recently been painted will likely emit a temporary odor, whether unpleasant or not; the key is to be patient.
After the bird feeder has been painted outside, it should be left there for several days to allow any lingering paint smell to dissipate.
In order to accomplish this, the freshly painted bird feeder must be kept outside at all times. If the weather is damp, move the activity indoors, and if it's cold, wait until the temperature rises.
Since non-toxic paint is typically water based, you and your kids may be able to paint the bird feeder inside, but you should leave a window or two open for ventilation.
Preserve untreated bird feeder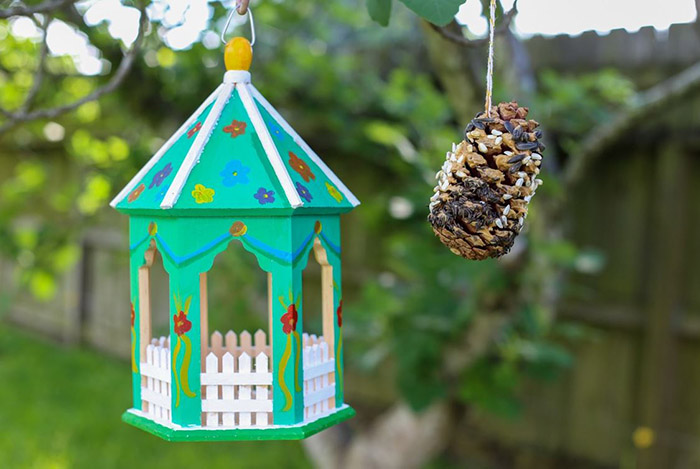 Even while painting a bird feeder shouldn't cause any problems, it is crucial that the feeder be kept by only using high-quality exterior paint.
Unsealed, unpainted wooden bird feeders are doomed to rot because the bird food's moisture can seep into the wood.
A clear preserve or, if you like, an antibacterial treatment, can be used to completely seal an untreated wooden bird feeder.
A clear preserve is recommended since the color or taint from a preserve can show up on your shade of paint, rendering the paint job unusable.
If you want to paint a bird feeder, you must only use a clear layer of preserve or some other treatment, or else make sure it has been preserved beforehand.
Use paintbrush strokes to apply preserve to a bird feeder or bird feeding platform, but be aware that the thinner the preserve, the more it will seep into the wood grain.
To summarize
Painting a bird feeder is quite safe, so long as you use an exterior paint that is meant for wooden outside garden decor.
Hanging bird feeders and more traditional post-mounted platforms made of wood can be painted with any nontoxic or water-based paint without worry.
The regions where bird seed might come into contact with the paint should be avoided at all costs. Although it may look incomplete at first glance, painting it will make a world of difference in terms of aesthetic appeal.
If you're worried about common backyard birds eating paint chips from feeders, you can conduct a test by leaving a piece of wood in contact with bird food.
Even while the potential for harm is low if non-toxic paints are used, you still shouldn't use them.
Only use exterior paint manufactured by a reputable brand. If you want the grain to really pop, a single coat is all you need.
Leave the newly painted bird feeder outside for several days to let any lingering odors or odours dissipate, since even high-quality exterior paint may have a slight odor after being applied.
If you want your bird feeder to last for years to come, don't paint it until after it has been properly preserved.