Huskies are a common breed among pet owners, and they come in two different kinds. We have the Alaskan husky and the Siberian husky, with the latter being more popular. Irrespective of which husky you have as a pet, they all have almost similar characteristics, one of which is their unique feeding habits. In this article, we look at the best dog food for huskies, but before then, here is what you need to know about the unique breed.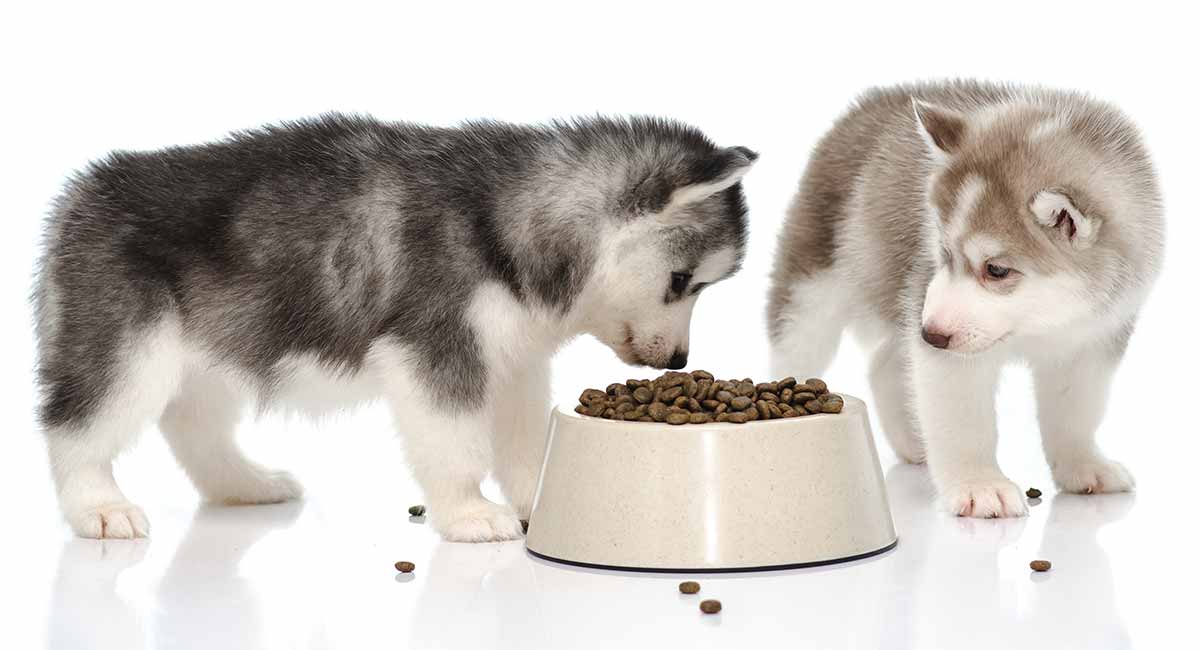 Huskies are friendly, have an amiable demeanor, but they can also be very naughty. They also have charming looks that endear many pet lovers to them. The looks include bright eyes, fluffy coats, and erect ears. They also have an athletic build, which is one reason why some people keep them as working dogs. The fluffy coats help the dogs to endure snowy and cold weather.
See also:
Dietary needs and feeding habits
Unlike many other dog breeds, huskies eat small amounts of food, which baffles some people considering that the dogs have big body sizes. The dog has a high metabolism, which enables anything they eat to last longer in the system. The requirement for small amounts of food stems from ancient times when huskies traveled long distances carrying light loads without eating much.
Huskies are intelligent dogs and know the behavior of their bodies more than other dog breeds do, which is the reason they display a lot of feeding discipline. For anyone keeping a husky for the first time, he/she might think that his or her pet is a fussy eater. A husky will only eat more food than they require after an exercise or an activity.
Other than that, huskies eat small amounts of food and stop immediately they feel full. They have a shorter life expectancy than other breeds, and it is harder for them to shed off body fat if they become overweight. Eating the same kind of food often bores the huskies, and they may avoid it altogether.
They do not like any distractions when they are feeding, and they may refuse to go back to their food after the diversion. They also never forget any food that makes them sick. Trying to feed them with the same diet again will not work because they have excellent memories.
Ingredients to consider when feeding huskies
Huskies are lean dogs with athletic and active lifestyles, and they need food with ingredients that meet all their nutritional and health needs. A low carb diet with a considerable amount of protein is one of the best things to consider when choosing a menu for the dog. Protein products from real chicken, duck, lamb, and other wild options should make the top main ingredients in the diet.
Huskies, just like many other dog breeds, digest meat-based products better than they do plant-based ingredients. In addition to the proteins, the formulas should also contain a balanced mixture of vegetables, healthy fat, omega 3 and omega 6 fatty acids, minerals, vitamins, and other essential ingredients. You should avoid grains in the formulas because of the intolerance levels of the breed.
Other things to avoid on the menu are fillers and artificial additives. Remember that natural ingredients provide dogs with better health options. Below are our top picks of 5 dog foods that contain all the ingredients suitable for your husky.
Our Top Picks Good Dog Food for Huskies
Nutro Max Adult Dry Dog Food
No products found.
Huskies, just like many other breeds, are prone to health issues such as allergies and digestive problems. If your husky is that dog, then you are in luck because Nutro Max Dry Dog Food grain-free diet will give you peace of mind. The recipe contains ingredients tailored to make your husky enjoy nutritious and great tasting diet without going beyond your budget.
The main ingredient in the formula is farm-raised chicken formulated with minerals and vitamins that help to provide balanced nutrition. The savory flavors of the high protein chicken and the whole grain content give the diet its value for money. The food also contains high levels of fiber that help your husk with digestion and smoother passing of stool.
The all-natural recipe, made in the USA has no artificial flavors, preservatives or colors. Other essential ingredients that make the blend potent are sorghum, peas, chicken fat, chicken meal, pea protein, whole brown rice, brewers rice, biotin, vitamins, amino acids, and green tea extract among many others.
Pros
Affordable
Grain-free
Contains no artificial preservatives, colors or flavors
The main ingredient is farm-raised chick which has a high-protein content
Contains whole grains that provide the diet with fiber for a healthy digestive system
Has a blend of other ingredients to make balanced nutrition for the husky
USA made
Great flavor
Cons
Not the best option for dogs with allergy issues
Orijen High-Protein Grain-Free Premium Quality Meat Dry Dog Food
No products found.
Orijen has a long experience of producing high quality and nutritious recipes for pets. The parent company is Champion Pet Food based in Canada that also manufactures in the USA. This particular recipe is a more refined diet of the original Orijen dry food. The menu features high protein chicken, turkey, wild-caught fish, and cage-free eggs. The protein ingredients make up 85% of the list. It does not contain potato, tapioca, or gluten. Two-thirds of the protein content in the formula is raw or fresh, which makes their nutritional potency high and tasty.
The company processes all the recipes in a privately owned kitchen with regional ingredients. The grain-free diet does not contain wheat, corn, or soy. It is also free from artificial preservatives, flavors, or corn. The food also has a great scent that your husky will enjoy.
Pros
Main ingredients are high protein poultry sourced from real animals
The meat used in the formula is fresh and raw
Tastes good
Has a great flavor
Tastes great
Grain-free
Gluten-free
Contains no artificial preservatives, corn, or soy
Cons
The new diet does not go well with some dog's digestive system with pet owners claiming that their dog's diarrhea after intake
More expensive than the original recipe
Blue Buffalo Life Protection Formula Natural Dry Dog Food
No products found.
Blue Buffalo is one of the most respected manufacturers of quality food in the market. The diet contains ingredients formulated for the vitality of the dog. The main ingredient in the diet is real meat, which provides huskies with the protein they need to help in building and maintaining their strong muscles.
Other ingredients include whitefish, menhaden fishmeal, barley, brown rice, peas, chicken fat, dried tomato pomace, sweet potatoes, and many others. The diet also includes LifeSource bits selected by holistic veterinarians that include a rich mixture of essential antioxidants, minerals, fruits, vegetables, and vitamins that help to support the dog's healthy immune system. Omega 3 and omega 6 fatty acids help to promote the dog's skin and coat, allowing the Huskies to stay as beautiful as they always do.
The grain-free formula contains no soy, wheat, or corn, and does not have artificial preservatives, colors, or flavors. All the ingredients are natural with no chicken or poultry by-products.
Pros
Uses real meat as the primary protein ingredient
Has a blend of other essential ingredients that include vitamins, minerals, amino acids, fatty acids and antioxidants that support the dog's immune system, and a healthy coat and skin
Grain-free
Gluten-free
Contains no artificial preservatives, colors or flavors
Includes high fiber content for healthy digestion
Contains LifeSource bits selected by holistic veterinarians
All the ingredients are natural
Affordable
Cons
Some pet owners complained of their dogs getting sick after feeding on the formula
Read next: Blue Buffalo Wilderness Dog Food Reviews
Purina One SmartBlend Natural Healthy Weight Formula Adult Dry Dog Food
No products found.
Purina provides huskies with recipes that meet their unique nutrition needs. The diet is ideal for dogs through all their stages of growth. All the ingredients in the diet are natural, with the main ingredient being a real turkey. Purina Dry Dog Food also comes with a weight management formula that contains few calories and little fat content that help the dog to maintain a healthy weight.
Other ingredients include antioxidants that blend well with the other ingredients to help support a healthy immune system for the dog. Glucosamine from natural sources is also another essential ingredient that helps to support healthy joints. The crunchy kibbles of the formula are easily chewable and digestible.
Pros
Contains real turkey meat as the main ingredient that helps the dog to maintain lean muscles
Has a weight management formula with few calories and less fat content
Contains antioxidants that help to build a robust immune system
Includes a blend of other essential ingredients such as vitamins, minerals and amino acids that add to the nutrition value
Grain-free
Does not have artificial preservatives, colors or flavors
Affordable
Cons
A few pet owners said their dogs did not react well to the formula
Victor Dog Food Grain-Free Active Dog
No products found.
Victor Dog Food from Victor Super Premium Pet Food is another quality formula that uses scientifically advanced and proven victor core ingredients for the health of huskies. The grain-free diet is especially suitable for puppies and younger dogs. It is also an excellent formula for pregnant and lactating breeds.
The nutrient content of the food helps the dogs to keep up with their high physical demands. The formula contains a multi-protein and nutrient-dense content formulated especially for dogs prone to grain and specific protein allergies. The main ingredient in the recipe is beef meal with pork meal, menhaden fishmeal, chicken fat, sweet potato, peas, natural flavors, vitamins, amino acids, taurine, and many others. It is also a great transitioning meal for growing puppies. The formula is free from artificial preservatives, flavors, and colors. It is gluten-free and does not contain wheat, soy, or corn.
Pros
Contains natural meat of beef, pork, and fish as the main ingredients
Ideal nutrient content for growing puppies
Fortified with minerals, amino acids, fatty acids and proteins for the dog's well-being and proper growth
Uses victor core scientifically advanced ingredients that help to promote healthy digestive and immune system
Grain-free
Gluten-free
Free from artificial preservatives, colors, or colors
Great for transitioning
Affordable
Cons
One complaint about a huskie hating the smell
Read next: Victor Active Dog & Puppy Food Reviews
Wrapping it up
When choosing the best food for your hussies, there are many things to consider because of their fussiness. Learn about their genetic traits and feeding habits before buying them a recipe that you would buy for any other dog breed. It may take you some time to get the ideal recipe with the best combination of ingredients for your husky, but the above list is a good starting point for getting it right.
The ingredients in the formulas have many similarities, which means that whichever diet you choose to go with, you will be doing your husky great good. They all provide high-protein content with balanced calories and other ingredients that support the dog's lean body, healthy immune system, stronger joints and bones, healthy coat and skin, and other health benefits.
No products found.