Yorkshire terriers or Yorkies are some of the most popular home pets in the United States and other parts of the world. They are toy breeds that people love for their affectionate, obedient, and playful nature. The pets are stress-free as they are also some of the most relaxed pets to handle. What they lack, though, is the dynamic nature of most of the other dog breeds.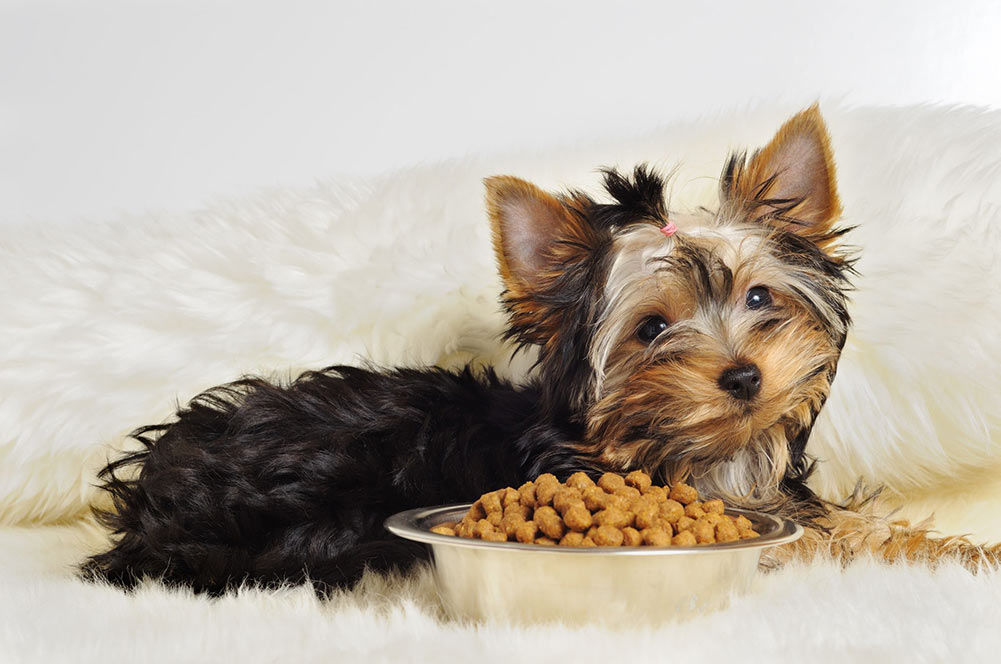 Another thing that sets them apart from different kinds is their incessant high-pitched barking and drooling tendencies. Even though the Yorkies are not as active as many other dog breeds, they have high levels of energy. Just like any other dog, they need the best dog food for Yorkies that contain all the proper nutrients in their diets to help them keep up with their energy levels.
See also:
Physical features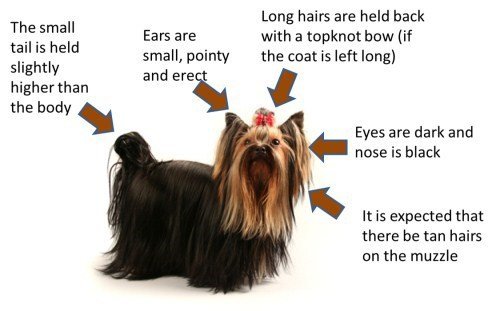 An adult Yorkie stands at six to seven inches with a weight of 5 lbs to 7 lbs. They have a long back with ears that face upright. Their head is small, and the muzzle is medium-sized, one of the distinct notable features of the Yorkie is the coat, which bears a blue-tan color. The coat is long, straight, and extra fine.
On top of the head, the Yorkie wears long hair, which almost looks human. They do not have an undercoat, which means they do not shed as much hair a several other breeds. The Yorkie has a high sensitivity to cold and chills. They need protection from cold weather at all times to avoid any sicknesses. A Yorkie has a long lifespan of between 13 and 16 years.
Dietary Requirements and Health Issues
Yorkies are a delicate breed that are susceptible to several health issues which include, eye problems, skin allergy, congenital problems such as kneecap dislocations, collapsed windpipe, dental problems, and digestive problems. While choosing the right diet for your Yorkie, you need to consider its nutritional needs and small-sized body. The breed is very susceptible to allergies and sensitive stomachs, so choose a diet will help to promote healthy digestion.
They are not as active as many other dogs, which means they can grow fat if you do not monitor the calorie levels in the diets. You should feed them with the right amounts that will nourish their exotic and silky coat. They have small stomachs and cannot eat large quantities of food at one sitting.
Ensure that you give the dogs enough gaps in between meals to avoid flatulence and bloating. The essential ingredients in a Yorkies diet should include 40% protein, omega 3, and omega 6 fatty acids, vitamins, minerals, carbs, fruits, and vegetables. Yorkies also tend to suffer from dehydration, so ensure that you give them a cup of water daily.
Avoid any meals with artificial additives and by-products. Also, remember to choose easy to chew and digest food because of the dog's small windpipe. If you suspect that your Yorkie ha a collapsed trachea, opt for wet foods instead of dry formulas.
Our Top Picks Yorkie Dog Food
Royal Canin Adult Breed-Specific Dry Dog Food
No products found.
Royal Canin is one of the few brands that provide specific food formulas for different breeds. The adult-specific dry food from the manufacturer contains the right combination and balance of proteins, carbohydrates fiber, moisture, and fats that a Yorkie needs for proper and healthy growth. The unique formula of glucosamine, chondroitin, lutein, taurine, biotin, EPA, and DHA in the menu helps to ensure that the Yorkie's coat, which is its main noticeable feature, stays healthy.
The main ingredients are chicken meal, chicken fat, brewers rice, and brown rice. The meal also contains specific nutrients specially formulated to support the long life expectancy of the Yorkie. It comes with exceptional aromas and palatability designed for fussy dogs. The exclusive kibbles have a shape designed to meet the Yorkie's nutritional needs.
The diet contains 3,798 k/cal per cup, which is enough to give the Yorkie all the energy it needs. It does not contain artificial preservatives, colors, or flavors. The meal, however, includes grains such as wheat gluten. The high fiber content helps the Yorkie with healthy digestion.
Pros
Does not contain artificial preservatives, colors, or flavors
Infused with balanced nutrients that promote good health
Promotes a shiny coat and healthy skin
High fiber content that supports healthy digestion
Contains EPA, DHA, lutein, and glucosamine that supports a robust immune system
Infused with vitamins, taurine, and ascorbic acid
Cons
Expensive
Contains whole grains which may not go well with dogs that have allergies
Royal Canin Breed Health Nutrition Yorkshire Terrier Wet Dog Food
No products found.
Royal Canin provides this meal for Yorkies with the assurance that it provides all the nutritional needs of the small-sized breed. The food is easy to eat for the small pooches, and it contains essential ingredients that keep the dog's exotic coat shiny, long, soft, and healthy. The diet also appeases the Yorkies' fussy appetites. The balanced diet features a palatable pate infused with high levels of omega 3 and omega 6 fatty acids that help to keep the coat beautiful and shiny.
It also includes a balanced blend of soluble and insoluble fibers that help to support the dog's fragile digestive system. You can choose to feed the Yorkie on the wet food alone or mix it a dry food to provide the dogs with a more massive appetite. The style of the recipe is loaf in sauce, which makes it easy to chew and digest. The formula does not contain any artificial preservatives, colors, or flavors.
Pros
Specially formulated for the fragile digestive system of the Yorkies
Tasty loaf in sauce food for better appetite
You can feed it alone or with a dry dog food
Contains soluble and insoluble fibers that support a healthy digestive system and intestinal transit
Includes a high content of omega 3 and omega 6 fatty acids that help to keep the glossy coat looking healthy and beautiful
Meets all the nutritional needs of the dog
Does not contain artificial preservatives, flavors or colors
Softens stool
Cons
Hill's Science Diet Dry Dog Food, Adult, Small Paws For Small Breed Dogs
No products found.
Hill's science makes recipes with the plan of strengthening the relationships between the pets and their owners. Nothing brings the two closer together than the exclusive hills science wet dog food diet that meets all the nutritional needs of your Yorkie. The menu has an infusion of easy to digest ingredients specially formulated for the dog's small stomach.
The kibbles are small enough to suit the little mouth of the Yorkie. The recipe also includes high-quality protein content that helps to maintain the dog's lean muscle. Essential and nourishing vitamins, omega 3, and omega 6 fatty acids help to promote the Yorkies healthy skin and shiny, soft coat. The manufacturer also blends natural ingredients with anti-oxidants that help to encourage the dog's long lifespan.
All the ingredients are from natural sources with no artificial preservatives, colors, or flavors. The veterinarian recommended recipe is USA made.
Pros
Veterinarian recommended contains no artificial preservatives, colors, or flavors
Infused with vitamins and fatty acids that promotes healthy skin and shiny, soft coat
Specially formulated with easy to digest ingredients for the dogs small and sensitive stomach
Contains high-quality proteins that support lean muscle build
Small kibble that suits the Yorkies little mouth
Tasty
Cons
The new formula does not go well with some dogs sensitive stomach
Has a strong smell
Cesar Gourmet Wet Dog Food
No products found.
Cesar Brand provides pet owners with mouthwatering home-inspired recipes that the dogs cannot resist. The wet foods come in convenient trays with easy to peel seals, making them the most leisurely easy-to-go meals for your Yorkie. The main ingredient in this tasty wet food is meat protein. The feeds come in variety packs of poultry, duck, grilled chicken, oven-roasted chicken and turkey, the grain-free recipes use USA products as the top ingredients.
The formula also includes a rich infusion of vitamins and minerals that go a long way in supporting a healthy dog's system. You can feed the dog the wet food on its own or mix it with a portion of dry food to give it more appeal. The ingredients in the recipe help the dog to control the urinary tract and promote healthy digestion. It does not contain any artificial preservatives, colors, or flavors.
Pros
Contains animal protein as the main ingredient
Grain-free
Contains no artificial preservatives, flavors, or colors
Has an easy to peal seal
Infused with minerals and vitamins
It is suitable taken on its own or mixed with dry food
Comes in a variety of flavors
Cons
Ingredients not ideal for dogs with sensitivity to certain foods
Strong smell
Blue Buffalo HomeStyle Recipe Natural Adult Small Breed Wet Dog Food
No products found.
One of the things that set the Blue Buffalo HomesStyle apart from many others is its moisture-rich formulation. The formulation is especially suitable for a sick or ailing Yorkie. The meal contains high quantities of omega 3 and omega 6 fatty acids that provide the dog with the best anti-oxidant and anti-inflammatory properties. It also contains glucosamine that helps with the joints and bones.
The main ingredient in the recipe is real lamb meat, accompanied by broth and liver. Other essential ingredients in the formula include wholesome grains such as brown rice and barley, garden vegetables, fruits, sweet potatoes, carrots, and others. The recipe does not contain wheat, corn, soy, or chicken by-products.
It is also free from artificial preservatives, colors, and flavors. You can choose to feed the Yorkie on the wet food as a meal or mix it with dry food of your choice.
Pros
Mixes well with any dry dog food of your choice
Dogs can eat it as a meal without mixing with anything else
Moisture-rich formulation ideal for a sick dog
Includes a vibrant blend of omega 3 and omega 6 fatty acids that provide the dog with good health
Supports healthy immune, and digestive system
Does not contain wheat, soy, corn, or chicken by-products
Does not contain artificial preservatives, colors, or flavors
Cons
Might cause allergies to dogs with sensitivity issues
Expensive
Read next: Nutro Ultra Large Breed Puppy Food Review
Wrapping it up
Yorkies may be small, but they are energetic dogs that require diets with balanced nutrients. They are susceptible to specific health issues, one of which is sensitivity to certain foods. The dogs have a small stomach that cannot withstand some dry foods, which is why it is essential to feed them with wet foods, especially in their earlier stages of growth.
The above recipes all come with quality ingredients that meet all the nutritional and health needs of the Yorkie. You can mix the foods easily with dry foods for the more finicky Yorkies. The recipes focus on maintaining the coat of the Yorkie beautiful, soft, and shiny while ensuring that they do not have any problems with their fragile digestive systems.
No products found.