Blue Buffalo is one of the most popular brands and top manufacturers of nutritious and balanced dog food recipes. Among the many different types of recipes is the Homestyle canned food that features 14 different wet food recipes. All the 14 Blue Buffalo canned dog food recipes contain ingredients that go with the different stages of the dog's growth.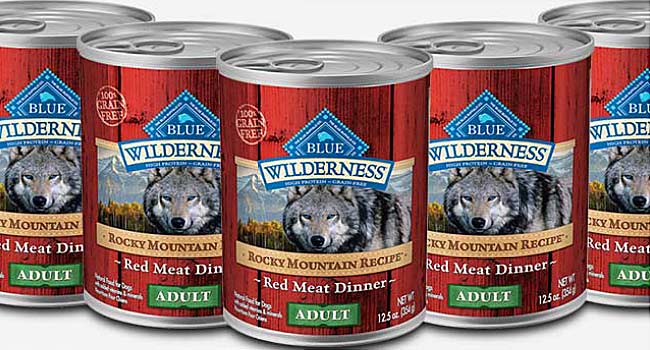 Some of the recipes are puppy-canned food, while the others are for adult, mature, senior, large, small, and other breed of dogs.  The wet food formula of the Blue Buffalo features four different formulas, which allows you to choose the best one for your dog.
The formulas include whole protein ingredients of chicken, lamb, beef, fish or turkey alongside garden veggies and fruits. The ingredients also contain vital vitamins, minerals and antioxidants that help with the dog's strong and healthy growth to help them keep up with their active lives. All the ingredients in the canned foods are natural with no added preservatives, flavors, corn, soy or wheat.
See also:
Benefits of Blue Buffalo Canned Dog Food
All ingredients are natural
Recipes do not contain by product fillers
Ideal for dogs of all ages and breeds
Ideal for dogs and puppies with gluten intolerance
Many options to choose from
Diverse formulas for all breeds
No dyes, preservatives, corn, soy or wheat
Cons
More expensive than dry foods
Our Top Picks Blue Buffalo Dog Food Canned
We reviewed all the recipes in the line of the Blue Buffalo canned dog food and even though all the recipes contain great natural protein with a blend of veggies and fruits, the following three products represent what to expect from the Blue Buffalo Homestyle dog recipes.
Blue Buffalo Homestyle Recipe Natural Senior Wet Dog Food
Blue Buffalo Homestyle Chicken Recipe keeps your senior flurry dog healthy and happy with an all-natural blend of ingredients. The recipe features real chicken as the main ingredient, followed by a mixture of veggies and fruits. In addition to the ingredients are chondroitin and glucosamine.
The recipe's formulation supports all the nutritional needs of a senior dog as well as strengthening the mobility of the joints. The high quality protein derived from chicken promotes healthy muscles while the minerals and vitamins enhance the dog's immune system and metabolism.
The meal contains no soy, preservatives or artificial additives and flavors. Other notable ingredients are barley, peas, sweet potatoes, flaxseed, chicken broth, chicken liver, carrots, brown rice and oatmeal among many others. The caloric content of the recipe is 1,119 Kcal/Kg or 396 Kcal/Cup.    
Pros
Highly nutritious providing the senior dogs with high quality proteins
All natural ingredients
Balanced diet of chicken as the main ingredient alongside minerals and vitamins for essential growth and heath
Contains glucosamine and chondroitin for healthy joints and good mobility
Keeps the senior dog strong
Helps to maintain the dog's healthy muscles
Contain no soy, by-product, wheat, corn, artificial flavors or preservatives
Great reviews
Cons
Blue Buffalo Blue Homestyle Recipe Chicken Adult Dog Food
This chicken recipe for adult dog from Blue Buffalo is a soft food that contains all-natural ingredients of proteins veggies and fruits. The ingredients are rich in vitamins, mineral and antioxidants made of up of the exclusive LifeSource Bits of blue buffalo. The recipe does not contain any chicken by product but only whole chicken as the main product.
There are no artificial preservatives in the recipe and it is free from wheat, soy and corn. Formulated for the adult dog, the recipe is also a great meal for transitioning from puppy food to adult dog food. The diet is also good for dogs with sensitive stomachs and those with weight challenges.
Pros
Highly nutritious all natural diet
Contains chicken as the main ingredient
Contains minerals, vitamins, and antioxidants that help to keep the dogs system and joint mobility strong and healthy
Contains protein that helps to build the dogs muscles
Easy to chew as it is soft
Good for sensitive stomach
Does not contain corn, wheat, soy, artificial additives or flavors
Cons
Blue Buffalo Homestyle Canned Variety Pack Dog Food
The variety pack dog food from Blue Buffalo, comes in a pack of 12 cans all filled with nutritious goodness for the dog. With the main protein ingredients being turkey, chicken and beef, the recipes provide the dog from the puppy stage to the adult stage with wholesome rich nutrition that helps them to grow healthy and strong.
Each recipe contains an all-natural blend of ingredients that also includes quality veggies and fruits that contain vitamins, minerals and antioxidants. The high quality protein content in each can helps to maintain the dog's lean muscle mass and give it the energy needed for the active life it leads. The canned foods contain no soy, corn, wheat or artificial additives and flavors. Each can of food weighs 12.5 oz. Caloric content of the recipe per can is 1,194 Kcal/Kg or 421 Kcal/Cup.
Pros
Comes in a pack of 12 delicious recipes for the dog
Contains high quality proteins
Provides the dog with energy and helps to maintain its lean muscles
The first ingredient of the recipes is real turkey, real chicken and real beef
Contains a quality mixture of garden fruits and vegetables
Contains vitamins, minerals and antioxidants that keep the dog healthy and strong
Does not contain any by-products, corn, soy, wheat, preservatives or added flavors
Ideal for small, medium and large breed dogs
Tasty as dogs love the recipes
Cons
Wrapping it up
The reason why Blue Buffalo is a choice for many dog owners is that the recipes really work on their pet friends. The ingredients in the diets do not cause digestive and stomach problems that many other brands cause. They are wet foods that are easily digestible and tasty to eat.
Blue Buffalo canned dog food is friendly on the stomach especially during the transitioning period. The recipes, which all contain natural garden ingredients and whole protein ingredients come in a variety of different formula for different stages of the dog's life, which makes it easier.